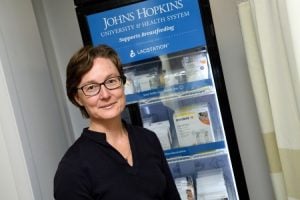 Meg Stoltzfus spent eight years at Johns Hopkins overseeing breastfeeding support programs for employees. As an entrepreneur, she has developed a product that will ensure she helps new moms for years to come.
A private room for breastfeeding mothers at The Charlotte R. Bloomberg Children's Center is equipped with a Lacstation, a trademarked vending machine invented by Stoltzfus that is filled with breast pump parts and accessories.
Stoltzfus developed the Lacstation three years ago as part of Johns Hopkins Technology Ventures' Social Innovation Lab (SIL). Her time there allowed her to figure out the machine's technology — the original version of the Lacstation she installed at Johns Hopkins was a custom-built snack machine that pushed products out by coils. But Stoltzfus says items often became stuck on their way out, and it was difficult to change the machine's inventory.
To use the second-generation machine, by contrast, moms swipe a credit or debit card to open the door and then can browse the products, each of which has a radio-frequency identification (RFID) tag. Once the door is closed, the machine determines which RFID tags are gone and charges the user. Johns Hopkins absorbs much of the cost because it sees Lacstation as an employee benefit, according to Stoltzfus.
"When I originally conceived the machine, I thought it would be a lifesaver" for new mothers facing workday emergencies, she says. "But it turns out, because of pricing, that moms also do some of their regular [breast-pump-related] shopping at the machine."
Johns Hopkins monitors the machine's supply through a computer dashboard and changes prices and inventory as needed, she adds.
Stoltzfus got the idea for Lacstation when moms working at Johns Hopkins regularly told her they had to go home to retrieve a pump part. Stoltzfus tried to work with the hospital's pharmacies and gift shops to have pump parts available. Then, while walking through an airport terminal, she saw a vending machine selling electronics.
"We need a 24/7 solution and that is a vending machine," she recalls thinking.
Across North America, 50 hospitals and other large employers have inquired about getting a Lacstation, Stoltzfus says, but she wants to perfect the logistics and procurement at Johns Hopkins before expanding operations. In response to requests for Lacstations in public spaces, newer versions of the machine will have updated back-end technology that can charge different prices for employees than nonemployees.
A self-described "accidental entrepreneur," Stoltzfus left Johns Hopkins in March to work on Lacstation full-time. She credits her experience at SIL with helping her present and refine her idea. She also participated in I-Corps, the National Science Foundation program that helps entrepreneurs develop business plans and perfect customer discovery projects.