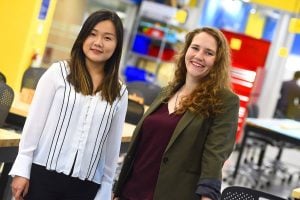 The following was originally published in The Hub.
Bailey Surtees always wanted to become an inventor. Growing up, she spent her time designing and building—Erector sets, small engineering projects, and other things.
But while Surtees worked on her inventions, she also dealt with health complications that often kept her out of school. When she was 12, Surtees—who is deaf in her left ear—had an operation that involved reconstructive work. The procedure fascinated her. Her doctor, noticing her interest, explained the surgery and introduced her to the larger world of bioengineering.
"He was the one who made me realize you can engineer with the human body," Surtees says. "You could take this beautiful, natural thing, and you could add man's creativity to it and create something even cooler."
Now a research assistant in the Department of Biomedical Engineering at Johns Hopkins University, Surtees is using her passion for biomedical technology to lead a team working to increase the survival rate of breast cancer patients in South Africa.
Kubanda—named for the Zulu word for cold—has developed a low-cost tissue-freezing device that can be used in low-resource settings where more conventional treatments are difficult to access. In April, the company won the inaugural Bisciotti Foundation Prize for Student Entrepreneurship
The team formed in 2016, and Surtees, then a junior, served as technical lead. At the beginning, it wasn't a medical tech startup, but an undergraduate design team formed to improve access to breast cancer diagnostics and therapeutics in South Africa.
During the group's two trips to South Africa, Surtees and the team visited hospitals in Johannesburg, Cape Town, and more rural areas to learn about existing treatments and needs. Surgery, chemotherapy, and radiation are often too expensive and impractical for many patients, contributing to a high mortality rate for those who are diagnosed.
The team also discovered that mastectomies and lumpectomies were the standard treatment for a breast cancer diagnosis in South Africa, but because they require a sterile environment and an anesthesiologist, they are only offered in urban hospitals. For those living in rural environments, travel to urban centers made this form of treatment too difficult and expensive.
To tackle these issues, the Kubanda team created a device that uses cryoablation to kill cancer tissue by freezing it at extremely cold temperatures. The tool swaps out hard-to-find argon gas with carbon dioxide, which can be procured cheaply and easily worldwide, making it more accessible in remote communities.
"Thanks to the globalization of the soft drink industry, you can find CO2 tanks everywhere," Surtees says. "But when we talked to the big players in cryotherapy and asked why aren't you using carbon dioxide, they told us what we're trying to do with it is impossible. It won't get cold enough."
But after two years of experimentation, the team was able to defy the experts and devised a way to use CO2 to cool the surgical needle to the freezing temperatures needed to kill cancer tissue. Their device uses a positive feedback loop that moves the CO2 from high to low pressure, dropping the gas in temperature with every cycle. This pressurized cooling, known in thermodynamics as the Joule-Thomson effect, can be seen in the fact that cold air is blown through pursed lips, while hot air is released when you breathe out with your mouth wide open.
The Kubanda team currently consists of Surtees and co-founder Clarisse Hu, as well as seven undergraduate members. Together, they recently had their first animal study published in PLOS One, a major step on the road from student innovators to leaders of a medical technology company working at the front lines of women's health.
Publication has been a moment of validation for the group, Surtees says. From here, Kubanda can continue their research, shepherd their studies through FDA review, and get their device to the women who need it.
It's been a long journey for Surtees. After two years with the group as an undergraduate, she decided to stay on with Kubanda after her graduation in 2017 to see the project through and mentor the next wave of student collaborators.
"I was worried about the transition at first, but I realized that management is just watching your team shine, and looking at the big picture and finding the right parts to do what you need to do," Surtees says. "There's something so special about watching the freshmen on my team become seniors who know more about what they're doing on our project than I do."
Nicholas Durr, an assistant professor in the Department of Biomedical Engineering and Kubanda's faculty advisor, says he's thrilled by the progress Kubanda and Surtees have made.
"When she was considering spinning out the company, we had a lot of conversations about what it would look like," Durr says. "Worst case, she'll have an intense learning experience and know that she gave it her best. Best case, she'll be responsible for saving the lives of people that desperately need help."
While working on the project, Surtees also served as a student-teacher at a local high school. She says it was really inspiring to be able to tell the girls in her class that there are 18-year-olds on her team working on innovative cancer treatments, and that these kinds of professional breakthroughs can happen at any point in life.
When she was their age, Surtees says, she had no idea that in just six years she would already be achieving breakthroughs in her chosen field. Every day in the lab, she adds, is an exciting opportunity to push forward.
"I have so many moments where I'm just like, 'Pinch me, I'm dreaming,'" Surtees says. "I didn't know if I'd be able to finish high school with some of the health problems I had going on, so to be here now is wild. It's a dream."