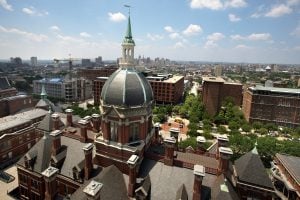 In his role as medical director for digital health and telemedicine at Johns Hopkins Medicine, Brian Hasselfeld, M.D., routinely receives pitches for new technologies from entrepreneurs and innovators. One of his first questions is always the same: Do you know the competitive landscape?
"Many solutions right now are losing the first-mover advantage because the space is so interesting and so applicable right now," he says. "Knowing that differentiation in the competitive landscape is so important."
Telemedicine has exploded at Johns Hopkins Medicine during the pandemic: The hospital system went from fewer than 100 virtual appointments per month before 2020 to 90,000 virtual appointments last April and May — accounting for more than half of all outpatient care.
"It's a complete evolution of the deployment of ambulatory (outpatient) care," says Hasselfeld. "It's not going to be the modality for all care, but it will continue to be an option patients want."
As proof, Hasselfeld notes that even when The Johns Hopkins Hospital resumed regular operations in June, more than 25 percent of patient visits still took place via telemedicine. Some specialties, such as neurology, neurosurgery and psychiatry, remained at more than 50 percent virtual care.
"It's a testament to the convenience for our patients," he says. "I think the convenience factor will be a key reason for the stickiness of telemedicine going forward."
Convenience for clinicians is also important when assessing a prospective digital health technology, he says. Having a technology "validated by a clinical champion" helps demonstrate its day-to-day usefulness.
"In any industry, you want to ask yourself not just, 'Is this is a good idea in isolation?', but 'Is this a good idea that can apply to the workflows of the business owners you're seeking to work with?'" he says.
Technology teams at Hopkins have been looking at other industries to solve workflow problems at Johns Hopkins. Screening patients for COVID-19 symptoms before they entered the hospital was easier in warmer months, for example, when people could wait outside. To prevent long lines in cold weather, however, Johns Hopkins Medicine looked to the federal Transportation Safety Administration PreCheck as a model in developing an online pre-visit screening and questionnaire. A patient who completes the screening receives a pass, allowing them to skip the line at the hospital entrance.
Video technology has also proven helpful with restrictions on visitors in hospitals, he adds, enabling family members to visit with a loved one during conversations with doctors.
For all the advances in digital health care, however, Hasselfeld is mindful that they will prove useless if a patient can't access them. "Techquity," or ensuring that all patients — no matter their socioeconomic background or technological literacy — have access to digital health resources, is another consideration Hasselfeld makes in assessing a technology, as well as whether the platform is English-dominant or allows a virtual connection with an interpreter.
"Will it improve upon access barriers, or does it risk exacerbating them?" he says.
Startups also need to be mindful of how they are protecting patient data. Johns Hopkins Medicine does not have any flexibility when it comes to unsanctioned use of patient data, according to Hasselfeld.
"At large institutions in particular, don't underestimate the importance of data privacy, security and the use of patient data," he says. "Any business model that's predicated on owning patient data really needs a next layer of review, understanding and value proposition."
As digital health continues to expand, Hasselfeld is urging Congress to set national standards for telemedicine, instead of a patchwork of state regulations that might prevent, hypothetically, a patient in New Jersey from seeing a doctor virtually in Pennsylvania — even if the patient has previously traveled across state lines to the doctor's office.
"The expansion of digital health has opened up new questions in the legal, regulatory and insurance spaces in practicing medicine," he says. "The question is: How do we, at the end of the day, connect patients and providers, recognizing there will be legal and regulatory barriers to work through? This needs to be considered by all digital health entrepreneurs."
Click here to learn more about Johns Hopkins Medicine's telemedicine program.