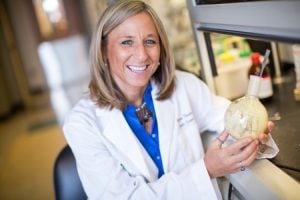 The Johns Hopkins University announces that IP Group has funded the creation of Lorem Therapeutics as part of an ongoing collaboration between the university and the intellectual property commercialization company to explore, identify and commercialize technologies. Lorem will be focused on developing early-stage therapeutics, bridging the gap from drug discovery to investigative new drug (IND) status, specifically novel small molecule prodrugs for cancer indications.
"The relationship Johns Hopkins has forged with IP Group aims to facilitate one of our institution's long-standing missions—to bring the benefits of discovery to the world," says Christy Wyskiel, senior adviser to the president for enterprise development and the head of Johns Hopkins Technology Ventures, the university's intellectual property administration center. "The support provided to early stage technologies through this model of venture creation has the potential to accelerate the transformation of promising research into impactful products and services."
Lorem is led by Barbara Slusher, Ph.D., M.A.S., professor of neurology, psychiatry, neuroscience, medicine and oncology at the Johns Hopkins University School of Medicine, who has an extensive track record of bringing lead compounds from drug discovery through clinical development. Slusher directs Johns Hopkins Drug Discovery, the largest integrated drug discovery program at the university, with a veteran team of medicinal chemists, assay developers, pharmacologists, toxicologists and pharmacokinetic and drug metabolism experts. The team is engaged in identifying novel drug targets arising from the university's research efforts and translating them into new drug therapies for clinical development.
"We are excited to announce the first investment from our collaboration with Johns Hopkins University," says Michael Burychka, chief executive officer, IP Group North America. "IP Group is committed to supporting scientific discovery and is thrilled to work with Dr. Slusher. We look forward to building upon our relationship with Johns Hopkins and continuing to invest in novel science being developed at the university."
Accompanying the initial funding, Lorem Therapeutics will receive support from FastForward, a coordinated suite of resources managed by Johns Hopkins Technology Ventures that provides more than 100 startups with access to affordable space, services and funding opportunities.
"I am delighted to have the support of IP Group, Johns Hopkins Technology Ventures and FastForward as we launch this exciting venture," Slusher says. "IP Group's commercial expertise and initial funding as well as FastForward's ongoing support will play a critical role in helping us accelerate and enhance our drug discovery efforts around critical cancer indications."
Subscribe to the Johns Hopkins Tech Ventures newsletter!