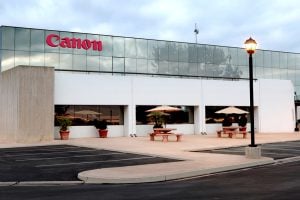 The Johns Hopkins University and Canon Medical Systems Corporation continue their long-standing relationship with a new international clinical study to investigate the effectiveness of ultra-high-resolution computed tomography to detect coronary artery disease. 
Armin Arbab-Zadeh, M.D., Ph.D., M.P.H., director of cardiac computed tomography in The Johns Hopkins Hospital's Division of Cardiology, is the principal investigator for the study and will oversee the research activities conducted at Johns Hopkins. The goal of the study, according to Zadeh, is to test innovative technology for accurate diagnoses without implementing invasive procedures such as cardiac catheterization. If the technology is confirmed, patients with suspected coronary artery disease may no longer need to undergo invasive testing. 
Zadeh's research focuses on pursuing strategies to better identify patients at risk for cardiac events using cardiac imaging. The clinical study will test the idea that more detailed information from medical imaging translates into a more accurate diagnosis compared with the assessment facilitated by conventional technology. A future goal of the research is to explore if more accurate diagnosis leads to improved risk prediction.  
"Part of Johns Hopkins' mission is to improve the health of our community by setting the standard of excellence in medical research and clinical care," says Zadeh. "I believe this study exemplifies this goal, as we are investigating a new standard for evaluating patients with coronary artery disease." 
The best technology is needed to identify and characterize disease, Zadeh adds. This multicenter study is another example of the long-standing productive research collaboration between Johns Hopkins and Canon Medical Systems Corporation, a medical equipment company and subsidiary of Canon. 
"Our mission is to continue to support the development of medical care to protect the healthy lives of people around the world," says Naoki Sugihara, Canon Medical Systems Corporation representative. 
"Johns Hopkins clinicians, scientists and engineers work hand in hand with Canon Medical researchers, bringing together Hopkins' deep research expertise and Cannon Medical's ability to bring cutting-edge imaging technologies to patients," says Paul Nkansah, senior director of corporate partnerships at Johns Hopkins Technology Ventures. 
Nkansah adds that Johns Hopkins is excited to be partnering with Canon Medical and two international institutions, Iwate Medical University in Japan and Albert Einstein Medical Center in Brazil, to carry out this important study, which if successful will help to identify faster, less invasive and more precise options for patients.