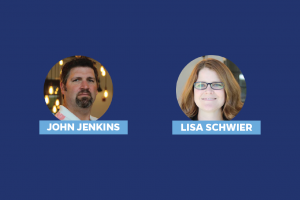 John Jenkins and Lisa Schwier have been named the newest recipients of Johns Hopkins Technology Ventures' R. Keith Baker Award.
The award is given annually to JHTV team members who demonstrate scientific curiosity, strong mentorship capability, altruism, calming influence, resolute perseverance and dedication to Johns Hopkins. It is named after Keith Baker, who began working at Johns Hopkins in 2000 and became the senior director of licensing for Johns Hopkins' Office of Technology Transfer. Baker died unexpectedly in 2013, and JHTV created the award in 2017 to honor his memory.
"Keith represented excellence in all aspects of his role at Hopkins. Those of us who knew and worked with him miss him," said Helen Montag, JHTV's senior director for ecosystem development. "He was the consummate team player, communicator, leader, educator and gentleman."
Schwier is a senior technology licensing associate who was cited by colleagues for approaching technologies with a general curiosity and thoughtfulness and being a calming influence in the face of challenges. She also was praised for her excellent mentorship.
Jenkins is FastForward's laboratory manager, overseeing facilities at the 1812 Ashland building as well as R. House near the Homewood campus. Jenkins kept all of the lab space open, running and safe during the pandemic, allowing startups to continue their research uninterrupted. Jenkins also was cited for his willingness to take on any job, big or small.
Jenkins and Schwier's names will be added to the list of previous award recipients on a remembrance of Baker located at JHTV's headquarters in the 1812 Ashland building.