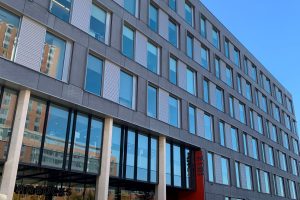 The JHTV Commercialization Academy is a highly competitive program that provides Johns Hopkins full-time students with exposure to the fields of commercialization and entrepreneurship through a two-year paid fellowship. Academic-year fellows work approximately 8-10 hours per week, with the option to work full-time over the summer. Fellows come from a variety of academic programs and share curiosity, team orientation, and an ability to understand complex and cutting-edge technologies.
You can meet our newest fellows below and learn more about the Commercialization Academy.
Danielle Nicklas
Danielle is a Ph.D. candidate in Pathobiology at the Johns Hopkins University School of Medicine. As a member of Gyanu Lamichhane's lab, she investigates antibiotic targets and drug resistance in nontuberculous mycobacteria in order to develop better antimicrobial chemotherapies. She is passionate about translating scientific findings into real-world solutions and previously conducted preclinical testing on antimicrobials and medical devices as an industry scientist. At Johns Hopkins, Danielle continues to develop her business experience while exploring the intersection of science and management as an active member of the entrepreneurial community, including as CEO of NovvaCup, a student-led startup. She plans to apply her business background and experience in drug development and medical device testing to the biopharma industry through a career in consulting or venture capital.
Alex Shaver
Alex is a fourth-year Ph.D. candidate in the department of Pharmacology and Molecular Sciences at The Johns Hopkins University School of Medicine. Under the guidance of Dr. Netz Arroyo, he develops electrochemical aptamer-based sensors for the continuous monitoring of drug concentrations in the body. Prior to his graduate career, Alex earned degrees in chemistry and microbiology from the University of Alabama. In his free time, he loves to bake cookies.
Kate DeNatale
Kate DeNatale is a first-year M.B.A. student at the Johns Hopkins Carey School of Business pursuing the Health, Technology, & Innovation track. She is also pursuing a certificate in Mental Health Policy, Economics, & Services through the Johns Hopkins Bloomberg School of Public Health. Prior to her time at business school, her professional experience included managing business operations in hospital and private-practice settings. She graduated from the University of Denver with a bachelor's degree in psychology, minoring in biology and chemistry and a concentration in cognitive neuroscience. Through her fellowship, Kate is excited to learn how to build sustainable business models that lead to actionable policy change. She is passionate about creating innovative healthcare delivery systems that increase access, safeguard patient autonomy and celebrate diversity.
Favorite Quote: "Imagination is the only weapon in the war with reality." Lewis Carroll, Alice in Wonderland
Anna Bagnell
Anna is a Ph.D. candidate in the Cellular and Molecular Medicine at the Johns Hopkins University School of Medicine. Her thesis work in the lab of Dr. Charlotte Sumner uses novel in-vivo mouse and in-vitro human blood-brain barrier models to study pathological mechanism underlying an inherited neurological disease, Charcot Marie Tooth Disease Type 2C. Prior to her graduate training, she received her bachelor's degree in biochemistry and neuroscience from the University of South Carolina. Outside of lab, she is also involved in Hopkins Biotech Network running the Mentorship-Match Program, and enjoys walking dogs as a Rover dog sitter.
Favorite quote: "Science has taught me that everything is more complicated than we first assume, and that being able to derive happiness from discovery is a recipe for a beautiful life." Hope Jahren
Jun Park
Jun is a full-time M.B.A. student at the Johns Hopkins Carey Business School and received undergraduate and graduate degrees in public health from The Johns Hopkins University and The Johns Hopkins Bloomberg School of Public Health. He is interested in pursuing venture capital at the intersection of health and hospitality and helping teams build and grow their operating model as they commercialize and scale their technology, product or service. Prior to resuming his graduate training, Jun worked in corporate development and strategy, mergers and acquisitions, management consulting and strategic initiatives for Booz Allen Hamilton and MGM Resorts International. He most recently served the Centers for Medicare and Medicaid Services (CMS) and Healthcare.gov in their Web and Emerging Technologies Group.
Argo Dalapati
Argo is an M.B.A. candidate at the Johns Hopkins Carey Business School. Prior to attending Johns Hopkins, he received undergraduate and graduate degrees in biomedical engineering. Argo has worked in various roles in medical device companies, ranging from Fortune 500 companies to startups, but has maintained a focus in next generation implantable technologies in the neurosurgical space.
Favorite Quote: "If you fail, never give up because 'F.A.I.L.' means 'First Attempt in Learning.'"