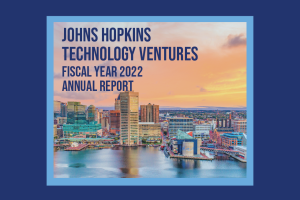 We're pleased to share JHTV's annual report for Fiscal Year 2022. As we returned to our offices and The Johns Hopkins University came back to life, our report celebrates the vibrancy of our campus innovation environment and our connection to the broader Baltimore startup ecosystem.
Among the ways we continued to bring the benefits of academic discovery to the world:
Awarded $800,000 in translational funding
Received nearly 500 reports of invention
Saw more than $250 million raised in venture funding by more than 20 startups
Entered a corporate partnership with Amazon to advance the next generation of artificial intelligence interactions between humans, online and the world
Expanded our technology development team to speed up commercialization for early stage, high impact technologies
You can read about these accomplishments and more in our interactive annual report.
We thank you for your continued support of JHTV as we look to build on our successes in FY23 and beyond.