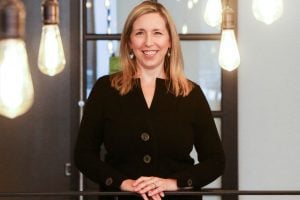 The following was originally published on Johns Hopkins' Coronavirus Resource Center.
History has shown that crisis inspires innovation. During the COVID-19 pandemic, innovation has been critical to keeping many people's lives and workplaces functioning safely. Dining out at restaurants has been replaced by meal and grocery delivery services, meetings are held via video conferencing, and health care visits are occurring on our screens. But entrepreneurs also have to face the challenges of our new reality, including a global economic crisis. Christy Wyskiel, Senior Advisor to the President of Johns Hopkins University for Innovation and Entrepreneurship and Executive Director of Johns Hopkins Technology Ventures, joined Samuel Volkin to discuss impacts of the COVID-19 pandemic on innovation.
Volkin: What is the role of entrepreneurship and innovation during the COVID-19 pandemic?
Wyskiel: The essence of entrepreneurship is identifying an unmet need and moving as fast as possible to get a meaningful product to market. This is exactly what society needs during crisis situations like the COVID-19 pandemic.
If there is a silver lining to the pandemic, it's that we're seeing accelerated collaboration in a productive manner. Rather than waiting for every development detail to line up or for a grant to come in, innovators are coming together and offering their unique skills in unique collaborations.
This pandemic has propelled collaboration in service of society. Companies with extensive libraries of drugs are rapidly innovating, scientists who haven't historically worked together now are forging research efforts, and thought leaders are sharing ideas across fields.
What type of COVID-19 response have we seen from startups?
Startups are working on things as varied as new personal protective equipment (PPE), vaccine technology, and ways to test and trace the spread of the virus. Several Johns Hopkins startups stand out as having scaled or pivoted to meet these needs.
One of those companies is emocha Mobile Health, which for years has been working on a mobile application for disease surveillance. Over time they have tracked tuberculosis and addiction, as well as medication adherence. The Johns Hopkins Health System is now using emocha to track COVID-19 symptoms of their 7,500 doctors, nurses, and staff to determine whether they are safe to come to work. Emocha happened to be the perfectly suited solution for this scenario, and it is now being used more broadly because of the newly identified need.
Another startup that has risen to the occasion is ClearMask, which, as the name implies, makes transparent facemasks – solving a crucial accessibility challenge for hearing-impaired patients. The company has seen a more than 400-fold increase in weekly orders compared to pre-COVID numbers and is planning to supply millions of masks in the coming months.
There is also BurnAlong, an app used by employers to set up employee wellness programs and by gyms and fitness instructors to record and live-stream classes for clients. Whereas it typically took a week to set up a new client, the company has managed to clients onto its platform in one day to meet demand. Business has doubled this year compared to last year, and seven times as many people took classes in March compared to February. I think it is telling that more than a quarter of all classes taken are in BurnAlong's specialty and emotional support categories, which includes mental health. It was not invented or planned for this type of situation, but what a wonderful tool for folks that want to stay "well" and fit.
How can startups scale up so quickly to meet the current need?
Startups are successful when they have good underlying technology and when they invest in building strong supply chain infrastructure and strong relationships with relevant partners.
Emocha, for example, built its software, tested it in various markets, developed key clinical partnerships and a core customer base, built up patient experience with a strong focus on user-interface testing, and had solid relationships with health departments around the world. It's as if the rooms were all built in a house but the light switches weren't on – so they walked around and just started turning on the light switches in the rest of the house.
The beautiful thing about software is that it can be leveraged infinitely. Whether you have ten users or a million users, the core technology is the same.
What will the economic impact of COVID-19 mean for entrepreneurs and their startups?
This is a real concern. The macro environment very much affects how companies get financed. In our world, financing is the fuel that allows innovation to happen. If a company cannot find investors, it cannot develop new software or prototypes and won't survive.
My concerns are based on previous macro environment situations like 9/11 and the financial crises in 2008 and 2011, when there was a clear and dramatic slowdown in venture financing. We've seen a few of our startups meet successful financial milestones despite the crisis. Take LifeSprout, which is developing next-generation synthetic soft tissues, and just closed $28.5M in financing. Another startup, Tissue Analytics – a wound care platform, also closed its acquisition in May. In the long term, the strong will survive but it will be choppy waters for startups that are in the midst of raising money.
With double-digit unemployment rates, a looming recession, and even large businesses failing and filing for bankruptcy, what is the outlook for entrepreneurs?
It's going to be a bumpy road for a while, but entrepreneurs cannot and should not be paralyzed by unpredictable events. They can set themselves up for success by continuing to serve their existing customer base and pivoting when possible to address an opportunity such as this critical pandemic. Entrepreneurs must have the end in mind to be successful.
Good innovation has already come in response to this pandemic. In addition to the companies I mentioned, I am so gratified to see so many folks at Johns Hopkins at the forefront of this crisis. From Lauren Gardner's COVID-19 global tracking map – which has become a resource for the world – to the COVID-19 diagnostic tests being run out of the lab of Karen Carroll and Heba Mustafa, this is a great moment for innovators.
DISCLAIMER: The Johns Hopkins University has a financial interest in its startups. This financial interest includes equity in the company and entitlement to royalties.