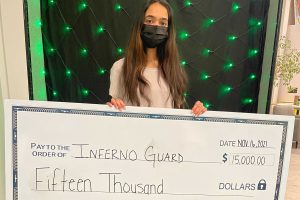 The following was written by Erica Avery, FastForward U's communications intern.
InfernoGuard, a student startup developing an early wildfire detection and warning system, was awarded the $15,000 top prize during FastForward U's Demo Day for its fall 2021 Fuel accelerator cohort.
InfernoGuard was one of seven student teams that participated in the nine-week accelerator program, where they learned about customer acquisition, marketing development, entrepreneurial finance, and investor readiness among other concepts. The program culminated in the Demo Day showcase, where teams pitched their products to a panel of alumni judges as well as friends, family and fellow entrepreneurs.
InfernoGuard uses a network of mounted sensory devices to continuously gather and analyze environmental data to detect an oncoming wildfire. The devices then notify first responders and local citizens of pending danger.
The four co-founders began their project while in high school together in Charlotte, North Carolina and have continued their work as they attended different colleges along the East Coast.
"Our project started back in our freshman year when there were wildfires in the Appalachian Mountains," says co-founder Nandita Balaji, a Johns Hopkins University sophomore neuroscience and computer science major. "These fires were almost 100 miles away from us, but we still felt the harmful effects of smoke on our high school campus. That's when we realized that wildfires were a massive problem that needed an innovative solution."
The team first entered a science competition with the U.S. Army Educational Outreach Program, where  participants identify a problem in their community and seek to solve it.
"After the year finished, we all realized we were so passionate about this product and wanted to do something to alleviate this massive problem" Balaji says. "We started prototyping during high school and have grown a lot since then."
The team did environmental testing in Yosemite National Park last summer, followed by testing at a nature reserve in California in the fall. The team will use of all the data to learn how the device would behave in an authentic wildfire scenario and understand its sensitivity to an approaching fire.
"We want to see this deployed in a forest monitoring for wildfires, out there protecting land and livelihood," Balaji says. "That's really our mission and what we're committed to achieve. We hope in the years after graduation to bring it to life and implement it in a community that needs it."
The technology has "gone through a lot of evolution, especially during COVID-19 where we were getting creative without a lot of facilities," says co-founder Zoe Sherman, a freshman engineering major at Lehigh University. "We're playing around with the best material and shape and design for the hardware."
The team plans to use the Demo Day award on product development, according to Balaji.
Though it was hard to feel connected going to college virtually last year, Balaji says working on InfernoGuard helped give her a purpose.
"This has been my most valuable experience in college," Balaji says. "I've found it really rewarding to speak to customers, learn from their experiences, and think about how our solution can bring an actionable change into this space. I've enjoyed being able to contribute to this mission that has a meaningful goal."
The other FastForward U Demo Day prizes were the $4,000 crowd choice award, which went to StetPulse, a sanitation system for stethoscopes. The $2,000 cohort prize was awarded to awarded to Cabilde, Mexico's first civic engagement app for legislative information and political processes.
"As we scale up our accelerators this year, our teams have told us repeatedly how important the energy of in-person events are to them," says Josh Ambrose, FastForward U's director of student ventures. "It was great to connect with them each week, get a firsthand seat for their progress, and to hear their pitches at Demo Day. Each and every one of our teams this fall were incredibly impressive and we're excited to watch their next steps and continue to support them on their venture development."
To see all the teams that pitched at FastForward U's Fall 2021 Fuel Demo Day, visit the cohort site.