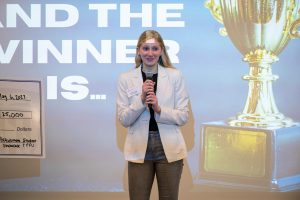 The following was written by Ani Weber, a JHTV communications intern.
The first time Casey Grage pitched her idea of a better cranial drill to 50 different investors was at the end of 2020. Only two agreed to fund her startup, Hubly Surgical.
So, for the next five months, she reinvented her device and Hubly's business plan. After she re-pitched to those investors in March 2021, she raised $1.3 million. Grage, a Johns Hopkins graduate student, then took Hubly through FastForward U's Fuel accelerator and has won multiple pitch competitions, including $170,000 from the last four she entered. She most recently won the Johns Hopkins Carey Business School's Municipal Acquisitions Student Venture Challenge.
"The pitch I'm using today is version 500," says Grage. "FastForward U really helped me."
Josh Ambrose, FastForward U's director of student ventures, called Grage "one of, if not the best student venture pitch speakers I've ever encountered." In the Fuel accelerator, Grage "shared generously" from her startup experiences and engaged with alumni mentors and industry connections, he said.
"I have been impressed with the tenacity and patience with which she was pursuing her vision," Ambrose said. "It's been tremendously exciting this year to watch her continued wins at competitions across the country and the build-out of her product and team."
Hubly's drill aims to replace the hand-cranked cranial drill, which relies on user feel and pressure sensing to determine where to stop. But relying on pressure means the drill might stop too early or, worse, too late and reach the brain. Hubly's device relies on a current draw to allow the operator to bore more efficiently and safely into the patient's skull. When the current spikes as a result of the drill breaking through bone, the motor automatically cuts off. The drill has a built-in monitor and can be used at a patient's bedside, Grage says.
"The goal is that it will reduce recovery time," she says.
Grage's interest in neurological device innovation stemmed in part from her family's history of neurological disease.
"I knew there was a lot of antiquity in neurosurgery that I wanted to address," she said.
Grage started Hubly after taking a medical device entrepreneurship class as an undergraduate at Northwestern University and a classmate, a neurosurgeon getting his MBA, one day noted that hand-cranked cranial drills were outdated technology.
She chose Johns Hopkins for graduate work because of the university's strong neurosurgery and entrepreneurship programs. But her master's degree will be in computational mathematics that helps her accurately analyze past and future clinical data and provides an outlet from the tribulations of running an early-stage startup.
"I'm using a totally different part of my brain when I'm working on Hubly things versus doing math homework," she said.
Hubly Surgical is seeking FDA clearance for its device, a process Grage hopes will be completed by the end of the year.
"The goal is that we will be the standard of care for craniotomy and osteotomy," she said.