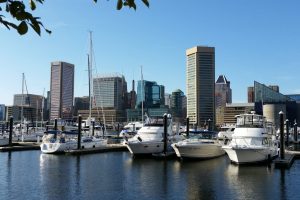 Startup News
Protenus Co-Founder Returns to Medical School
Robert Lord will become chairman of the board of the health care analytics company while he completes his physician training at The Johns Hopkins University School of Medicine.
Longeviti Neuro Solutions Expands Operations to LaunchPort in City Garage
Longeviti will use two units that offer sterilization for products being added to the Baltimore medtech space. Hunt Valley-based Longeviti also will have a research and engineering presence at The LaunchPort.
Roundtrip Enters Strategic Partnership with Redox
The digital transportation marketplace for providers and patients will work with Redox, an integration platform for health care data exchange, allowing Roundtrip to compile a complete view of a patient's transportation journey between care settings and offer insights to improve outcomes.
Sonavi Labs No. 2 on Technical.ly's RealLIST Startups
The digital stethoscope company was one of several connected to JHTV cited by the Technical.ly as among the "most promising" in the area. CLLCTIVLY, Mindstand Technologies, Happy Teacher Revolution and HostHome are in or are alums of the Social Innovation Lab, while Capsulomics Inc. is another Johns Hopkins startup.
Thrive Earlier Detection Featured in CNBC Story on Detecting Cancer Through  Liquid Biopsies
"Thrive, the new kid on the block, is looking to commercialize a cancer-detecting blood test developed by researchers out of Johns Hopkins including oncology professor Dr. Bert Vogelstein. The company says it's already identified pancreatic and ovarian cancers, two of the deadliest types, for its screening test."
emocha Teams Up With LifeBridge to Support Pediatric Inhaler Adherence
The program brings video Directly Observed Therapy (video DOT) to pediatric asthma patients as part of an effort to improve adherence and inhaler technique among children. Adherence rates among pediatric asthma patients are estimated at less than 50 percent. 
Sonavi Labs Wins International Pitch Competition
Earlier this week, medical device company Sonavi Labs won the pitch competition at Arab Health 2020,  one of the largest health care expos in the world. Sonavi beat 32 other startups in the Innov8 Talks Pitch Competition, and will get a booth at next year's conference.
Brittany Young Appears on 'Pod Save the People with DeRay'
The founder of B-360 (and alum of the Social Innovation Lab) discussed her startup, which shows Baltimore city students how the skills they have developed to maintain their dirt bikes can open career opportunities in STEM.
Galen Robotics Featured in Story About How Maryland Is Attractive to Tech Companies
"Galen Robotics was founded four years ago in Silicon Valley but the company moved to Baltimore to continue working with Johns Hopkins University on development research for a new surgical robot designed to help doctors with precise movements of medical instruments," The Daily Record reported. "'Having a local presence here is causing really talented engineers to raise their hands and come to us,'" co-founder Dave Saunders said. "'In many ways, it has made recruiting easier.'"
Other News
Christy Wyskiel and Alex Triantis Co-Write Baltimore Sun Op-Ed on a 'Revolution in Business Health'
"The future for Baltimore is bright, and we are entering an exciting new chapter of business development," the head of JHTV and dean of Carey Business School wrote after Legg Mason was acquired. "The next publicly traded company headquartered in Baltimore is just on the horizon."
JHTV's Jeanine Pennington Appears on Johns Hopkins Kimmel Cancer Center Podcast
Pennington spoke with Dr. Bill Nelson, director of the Kimmel Cancer Center, about how JHTV helps researchers manage the legal and regulatory process  and bring the discoveries and innovations found in the lab to patients diagnosed with cancer.
Christy Wyskiel Appears on Bloomberg Radio's "Small Business Report"
Wyskiel spoke with host John Tucker about entrepreneurship at Johns Hopkins.
Chesapeake Digital Health Exchange Launches
Launched by JHTV and the Johns Hopkins Technology Innovation Center with a three-year federal grant, Chesapeake DHX wants to create more connectivity between stakeholders in digital health in Maryland, D.C. and Northern Virginia.
Baltimore Ranked as Best U.S. City for Women in Tech
Baltimore surpassed Washington, D.C. for the top spot in SmartAsset's sixth annual study of 59 cities. Nearly one-third of tech jobs in Baltimore are filled by women, who also make 94% of what their male colleagues do.
Christy Wyskiel Quoted in Washington Post-Published Story on Universities and Commercialization
"There was a lot of untapped commercial potential," Wyskiel told The Hechinger Report. "The question became, 'Why, from a job-creation or a licensing-revenue perspective, were we also not at the top?' This ought to be a major part of our mission."
Maryland Tech Council Expands to Frederick
Frederick is home to RoosterBio and Kite Pharma, among other tech and life sciences companies. The MTC also is moving a Montgomery County satellite office to a new biomedical sciences building at the Universities at Shady Grove in Rockville.