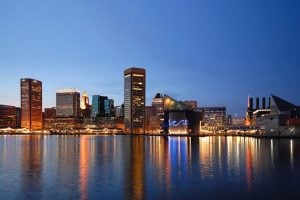 Startup News
Digital Health Startup CEOs Give Advice to Women Founders
Ellington West of Sonavi Labs and Therese Canares of CurieDX shared lessons and resources that helped their companies grow.
Relavo CEO Discusses Joining Baltimore Startup Community
"That transition away from a student startup to a fully separate company happened fairly quickly," Sarah Lee told Techincal.ly. "We lost facility access, then we're graduating and we got some funding to pay some salaries. We all committed to be full time. It kind of threw us into the deep end all at once, but we've been able to adjust to that."
b.Well Partners with UnityPoint Health
b.Well's platform that gathers in one place patient health data from multiple sources will be used by the Iowa-based health system, which includes 20 regional and 19 community network hospitals.
BurnAlong Announces Winners of Annual America's Healthiest Company Challenge
The winning companies in the six-week contest all were health care and medical organizations that invested in the health and wellness of their employees during the pandemic.
Mera Kitchen Collective Expands Footprint in Baltimore
The Social Innovation Lab alum, a food-based cooperative that showcases the skills of immigrant and refugee chefs, opened its first full-time restaurant in Midtown-Belvedere and building out an additional space on North Avenue.
MileMarker Team Receives NSF SBIR Phase I Award
The $256,000 in funding will go toward "integrating artificial intelligence into MileMarker's mobile assessment software to help medical educators identify excelling, competent, and struggling resident physicians faster than existing methods."
Longeviti Appoints Chief Medical Officer
Dr. David Langer is the chair of neurosurgery at Lenox Hill Hospital in New York City and is one of the few cerebral bypass surgeons in the country, according to the company.
Delfi Diagnostics Names New CFO
Doug Schenkel previously served as managing director and senior analyst at Cowen and Company, leading the firm's franchise focused on life sciences and diagnostic tools.
Startup Technologists Make Technical.ly's RealLIST Engineers 2021
Matthew Ford, principal architect at Protenus; Gillian Henker, CTO and co-founder of Sisu Global Health; Jal Irani, CEO of Flave; and Eric Solender, co-founder and chief technology officer of MindStand Technologies were honored.
Technical.ly Provides Updates on RealLIST Startups 2021
Delfi Diagnostics, Rose Health, MindStand Technologies, Infinite Focus Schools and Parity Homes all made this year's list, with Flave, Relavo and SpreadKarma getting honorable mentions.
Thrive's Liquid Biopsy Test Highlighted by HealthLine
Kevin T. Conroy, chairman and CEO of Exact Sciences, Thrive's parent company, said the potential for liquid biopsies to detect many more cancers at earlier stages has the potential to "turn the tide on what a cancer diagnosis means."
Ecosystem News
JHTV's Mark Bailey Named a 'CFO of the Year' by BBJ
"I ascribe to the notion of servant leadership, where the passion comes from supporting others," Bailey told the Baltimore Business Journal. "In my case, it's about equipping innovators with the tools and infrastructure to improve human health and meet other unmet needs in society."
Christy Wyskiel Discusses Impact of  Shortage of Web Lab Space in Baltimore
"Our strong preference is that this should be private-sector driven, and our companies are loudly voicing the need for more space," Wyskiel told The Baltimore Sun.
Maryland VC Funding Remains on Record Pace for 2021
The third quarter saw more than $72 million invested into 13 companies, both figures down from the previous two quarters, according to the PitchBook-National Venture Capital Association Venture Monitor. But Maryland is on pace to see $1.6 billion raised this year, up from $1.26 billion in 2020.
Baltimore Ranked Among Top Cleantech Innovation Hubs
Greater Baltimore ranked at No. 13 on a list compiled by Colorado-based venture capital and research firm Saoradh Enterprise Partners (SEP), which noted Baltimore's high scores in the research funding silo and for its young firms and entrepreneurs.
Maryland Stem Cell Research Fund Spotlights Warren Grayson
Grayson, a professor of biomedical engineering, is developing new methods of bone regeneration and facial reconstruction.
Report: Maryland Has One of the Nation's Strongest Life Sciences Industries
The study by the Milken Institute, commissioned by the Maryland Tech Council, outlined broad recommendations Maryland can adapt to expand the state's life-sciences economy.