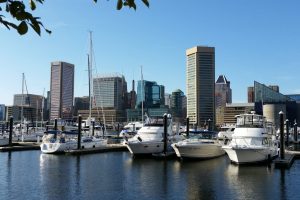 Startup News
Moderna Co-Founder Joins Board of Galen Robotics
"I thought it was really cool and I think it could help a lot of people," Robert Langer told The Baltimore Sun about working with the startup, which is developing steady-hand surgical robots.
Baltimore Proclaims 'B-360 Day' As Startup Launches $10M Campaign
Mayor Brandon Scott declared March 25 for the nonprofit, which is raising money to create the first permanent urban dirt bike park in the United States.
MindMaze Secures $105M in Funding
The neurotherapeutic company also announced a partnership with The American Hospital Association.
Sonavi Labs wins SXSW Pitch Competition
The digital health startup won in the "Health & Wearable & Wellbeing" category and also won an award for "Best DEI" company.
Allovue to Work with Arizona Secondary Schools
The K-12 education finance startup was selected by the Arizona Department of Administration to develop and implement a statewide school financial transparency portal.
InfernoGuard Takes Top Honors at Undergraduate Pitch Competition
The student startup, which is developing an early wildfire detection and warning system, won the $25,000 grand prize at the The Draper Competition for Collegiate Women Entrepreneurs at Smith College.
Clymb, Founder Featured in Baltimore Sun
Ashley Williams talked about her experience with emotional intelligence and the future plans for her company, a Social Innovation Lab alum formerly known as Infinite Focus Schools.
EpiWatch Completes $415,000 Raise
The digital health startup plans to use the funding for a clinical study "that, if successful, will show the FDA that its software can track users' epileptic seizures and coordinate lifesaving care."
Relavo Selected for National Pitch Competition
The company is one of 10 teams that will participate in the "2022 Innovation Challenge: Accelerating Innovations in Kidney Disease to Improve Health Equity and Outcomes" in May in Austin.
Parity Homes' Founder Joins Ignite Capital's Board
Bree Jones also will chair Ignite Capital's board of directors. Parity is a Social Innovation Lab alum.
Rose Health Wins BBJ's "Maryland Inno Madness" Bracket
The digital health startup competed against seven other startups in a competition where readers voted to advance companies based on one question: Who would you invest in?
EcoMap Technologies Joins Pax Momentum Spring 2022 Cohort
The eight-week accelerator program helps startups scale their revenue growth through a repeatable process.
MindStand Technologies Hires VP of Partnerships
Anthony Vaughan founded a Harford County-based human resources comapny before joining MindStand, a Social Innovation Lab alum. 
Bill Stevens joins the early-detection cancer startup after serving as an executive at Delfi Diagnostics and Personal Genome Diagnostics.
CLLCTVLY Launches '28 Days of Black Futures' Campaign
The Social Innovation Lab alum, in connection with Black History Month, started the "crowdfunding and narrative power campaign to amplify and mobilize resources for Black-led organizations serving in Baltimore."
RICH Hosts 'Stop the Violence' Party at West Baltimore Skate Rink
"We want to teach them to deal with their feelings and then be able to resolve conflicts so it doesn't get to the violence," Michael Battle, executive director of Restoring Inner City Hope, told The Baltimore Sun. RICH is a Social Innovation Lab alum.
Ecosystem News
Techstars Graduates First Equitech Accelerator Cohort
The 12 companies took part in a Demo Day at M&T Bank Stadium, and three of the companies announced they would be staying in Baltimore.
Maryland Named 4th-Best State for Innovation
WalletHub compared a number of characteristics within the categories of "human capital" and "innovation environment." Washington, D.C., was first.
Johns Hopkins Tops List of Universities Receiving NIH Funding
The university received nearly $825 million in 2021, approximately $15 million more than New York University.
Harbor Bank, Cerebro Start $50M Program for Minority-Owned Businesses
"The program will grant individual loans of up to $2 million and will target minority-owned businesses that 'traditionally have been underserved by the commercial credit market,'" the Baltimore Business Journal reported.