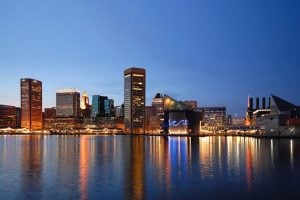 Startup News
Parity Homes Featured in Washington Post Video
Social Innovation Lab alum "Bree Jones is redeveloping homes in Baltimore to sell at affordable rates," according to The Post. "Like a lot of Black developers, she found it difficult to access capital until an investor came through."
CEO Sebastian Seiguer told the Baltimore Business Journal the
 company will use the new funds to significantly grow its team and customer base, especially among health insurers and transplant centers, and build on the success it saw throughout 2020.
The startup, a Social Innovation Lab alum, operates a robot in the International Spy Museum that tours the building while being controlled by patients at the Johns Hopkins Children's Center.
2 SIL Alums Receive Funding from B'more Invested
Fight Blight Bmore and MOMCares are part of 10 startups sharing $1.5 million in grants from a new initiative and demonstration pilot anchored by OSI-Baltimore and Baltimore's Promise that focuses on core values of racial equity, justice, community transformation, and collaboration.

b.well Connected Health Partners with Mastercard
Mastercard's ID Verification service is being integrated into b.well's platform. Patients will be able to securely and more easily verify their identity on b.well's platform, which makes data from health records, providers, insurers and a patient's own devices accessible via mobile device.
Sysmex Inostics Launches Liquid Biopsy Kits
The kits, using technology developed at Johns Hopkins, are research use only for colorectal cancer, non-small cell lung cancer, melanoma and thyroid cancer.
MindStand CEO Explains Art of the Pitch
Michael Ogunsanya was first runner-up and received $15,000 in a pitch competition for Black student entrepreneurs and founders organized by Duke University and North Carolina Central University. "You have to tell a story," Ogunsanya told Technical.ly. "You have to be vulnerable."
Roundtrip Launches Vaccine Access Program
"The initiative uses Roundtrip's technology platform to help healthcare professionals coordinate rides to and from vaccine appointments for members of vulnerable populations like the elderly and low-income individuals."
Delfi Diagnostics Begins Enrollment for Prospective Lung Cancer Screening Trial 
The nationwide prospective study precedes plans to commercialize an initial test in lung cancer before expanding into other cancer types. The study will measure the Delfi test's performance in a group of patients already known to have cancer, as well as a demographically-matched cohort of presumably healthy patients.
Galen Robotics' Discusses Plans for 2021
The company hopes to close a $25 million Series A round of funding this summer and is aiming to grow to 35 employees this year, CEO Bruce Lichorowic told the Baltimore Business Journal. The moves will set the company up to pursue clearance from the U.S. Food and Drug Administration within the next year.
D&D Pharmatech Announces First Patient Dosed in Phase 1 Clinical Trial of DD01
"In preclinical models of obesity, diabetes and non-alcoholic fatty liver disease, DD01 treatment reduced weight and improved blood sugar. These effects were accompanied by improvements in insulin sensitivity and lipid and fat metabolism, effects expected to provide a potential new treatment for fatty liver diseases."
Other News
Maryland Sees Biggest VC Funding Quarter in 20 Years
"Data from the latest MoneyTree report by PwC/CB Insights shows that Maryland companies [in the first quarter of 2021] received a collective $562 million in investment over 24 deals. It was a nearly 68% increase in the number of dollars and a 26% increase in the number of deals from the fourth quarter of 2020, which capped off a big year of investment in the pandemic."
Johns Hopkins Technology Featured in The Economist
"Dr. [Alexander] Szalay has added a microscope to his telescope. In collaboration with Janis Taube, a colleague at Johns Hopkins who is a pathologist, he is developing AstroPath. …The project's wider aim… is to make the results available to the world as a cancer atlas in a format similar to Google Maps."
UpSurge Baltimore Officially Launches, Releases Report on Startup Ecosystem
The organization, supported by Johns Hopkins University & Medicine, aims to support local startups and make Baltimore the nation's first "equitech" city. Its report found a sharp increase in funding from 2016 to 2020 and the average size of deals roughly four times higher in 2020 than in 2016.
Techincal.ly Recaps Christy Wyskiel's Campfire Podcast Appearance
"It brings perspective to hear a local tech leader explain what they do for an audience beyond the city. Plus, Wyskiel recounts the fast-moving recent history of JHTV and the growth of tech transfer in the university."
Investors Discuss the Future of Cyber Startups in the Region
Panelists at the recent CyberMaryland Conference said the tri-state area is "second to none in terms of talent, clientele and opportunity, due to the government contractor influence on the region." The panelists agreed for the region to take the next step as an "entrepreneurial hotbed" it must combine resources and work as one.
Md. Ranked Fourth for Life Sciences
Commercial real estate services company JLL put Maryland behind only Boston, San Francisco and San Diego in the company's 2020 industry outlook. The state has more than 55,000 employees in the industry, a 9% growth over five years.
Maryland Entrepreneur Hub Launches
The Maryland Technology Development Corp. (TEDCO), Maryland Department of Commerce and the University System of Maryland (USM) created the platform, which gathers all of the state's startup support and funding resources in one place, providing a menu of options for entrepreneurs looking for help navigating the ecosystem and growing their businesses.