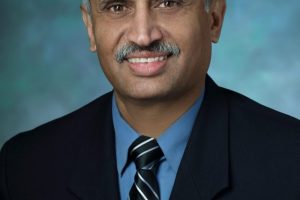 Venu Raman's approach to science is to "see what the data comes to." So when a drug he built from the ground up showed promising signs as a first-in-class cancer treatment, he decided to launch his own startup.
"This is one of the best things I can do," says Raman, a professor in the Department of Radiology and Radiological Science and Department of Oncology.
Raman founded Natsar Pharmaceuticals in early 2016 and, without formal business training, raised $1 million in little over a year and more than $3 million by 2018. The company plans to submit an Investigational New Drug application to the U.S. Food and Drug Administration and is aiming for a Phase 1 patient trial next year.
Natsar has developed a compound called RK-33 that inhibits DDX3, an RNA helicase essential for cancer cell proliferation. In testing on mice, RK-33 has been found to increase sensitivity to radiation and treat some of the most resilient cancers — breast, lung and sarcomas.
Raman worked with Johns Hopkins Technology Ventures to secure three patents.
"Without Johns Hopkins Technology Ventures, I couldn't do this at all," he says.
Raman also got business help from Katy Kuipers, a former pharmaceutical executive and consultant who provided connections to business leaders. Kuipers helped develop Raman's business plan and got him in front of investors. She was so impressed with Raman's work that she joined Natsar last year as vice president of business development and commercial planning.
"I liked that he had already interrogated the target and had many publications," she says. "He really understands what he's working with."
Kuipers, who has seen many small companies pitch to Big Pharma, said Raman is good at explaining his work and answering investors' questions. Most importantly, she says, Raman also can articulate his vision for Natsar.
"A patent and no plan is no good," she says.
Five years from now, Kuipers says, she hopes RK-33 has a commercialization partner and is approved in its first cancer indication while being explored in a half-dozen additional types of cancers. Raman, meanwhile, has already thought about his eventual exit strategy from Natsar, whose name combines the first three letters of his daughters' names. Any potential buyer, he says, must agree to keep the cost to consumers as low as possible.
"Our thought process from day one was to help patients," he says.
Although Raman spends much of his weekends on the phone with investors, manufacturers and board members, he says it has been satisfying to see the project move toward a clinical trial. He hopes his work will inspire other inventors at Johns Hopkins who might not be sure about going into business.
"If they have the will and they have the data, it's hard work but it can be done," he says. "If you're passionate enough, it can work out."