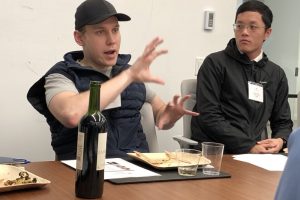 More than a dozen Johns Hopkins alumni and startup founders met in New York earlier this month for the third Founders' Forum, a collaboration between Johns Hopkins Technology Ventures and the Johns Hopkins Alumni Association.
The event was hosted by Chuck Clarvit (Krieger School of Arts & Sciences, 1978), a member of the university's Board of Trustees and held at the offices of Lux Capital.
Founders at the event included: Alex Villa (Whiting School of Engineering, '12), COO of Healthify; David Lighton (KSAS/School of Advanced International Studies, '12), CEO of SendFriend; David West (WSE '16), CEO of Proscia; Efrem Epstein (KSAS '90), chief marketing officer of Ziplyne; Shrenik Jain (KSAS '16), CEO of Marigold Health; Jess Gartner (WSE '11), CEO of Allovue; Kavi Misri (Carey Business School, 2018), CEO of Rose; Mehul Sompura (Carey '07) of Diamond Hedge; Scott Bierbryer (KSAS '08), COO of VeryApt; Sebastian Seiguer (Carey '13), CEO of emocha; Tom Jaklitsch (WSE '15), chief technology officer of Negotiatus; and Yury Yakubchyk (KSAS '13) of Sprout Therapy.
The Founders' Forum is an extension of Johns Hopkins' recently launched Founders' Pledge program, which is seeking company leaders to give back to the university at the point of a liquidity event — that is, a company exit through merger, acquisition or initial public offering.
For more information about the Founders Pledge or Founders Forum, please contact Madeleine Stokes or Margia Arguello.