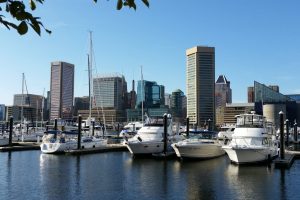 As Johns Hopkins graduates and entrepreneurs who have grown companies over the last decade in Baltimore City, we have seen many choices that lead to success for startups as well as those that lead to failure.
While some startups fail because of a lack of market fit, or due to competition or scale issues, one of the most painful types of failure for us to see is uninformed technical decisions leading to bad product development, wasting time and money. We believe that with the right technical guidance, startups can make the correct technical choices the first time around.
When we were at Johns Hopkins, being a student entrepreneur or a startup co-founder wasn't a thing people talked about. There was no innovation lab or Lunch and Learn with founders or pitch competition. There was no FastForward or Makerspace or, for that matter, Brody Learning Commons. In other words, there was none of the supportive infrastructure, and there were no resources, to help students get ideas off the ground and turn them into companies. But after meeting our co-founders, creating real ideas worth investing in during our 20s, and finding a community of entrepreneurs and builders across the city, we decided to stay in Baltimore after graduation.
Our decision meant many things. It could be harder to raise capital or connect with customers, for one. But it also meant we could become part of a tight-knit community of aspiring entrepreneurs and dreamers. It meant that when we needed help, we were one degree away from someone who would move us forward. And it meant that as our companies continued to grow, we would have the opportunity to give back and help other entrepreneurs and founders start validating their ideas and designing the technical solutions to bring their businesses to market.
That's why this summer, our company, SmartLogic, is offering an opportunity for one startup to bypass the technical failure point through $400,000 in product development investment and mentorship from the SmartVentures program.
We see SmartVentures as an opportunity that brings together value on several fronts. The startup gets access to the technology development and mentorship it needs to scale, getting around some of the limitations of the smaller capital market here in the mid-Atlantic. SmartLogic, in turn, gets equity and a chance to see some of the gains from a company we've helped build by investing time and expertise. And we help grow the local startup ecosystem — the winning company must be located in or relocate to Baltimore.
We're looking for a startup that is ready to grow, that is past its initial minimal viable product, and that has market traction in the form of revenue but is constrained by a need for product development and technical expertise. Our goal is to work with the winning company over the next year to 18 months to build a scalable product, help it find and hire full-time technical staff and get to the next big growth stage, like raising its next round of funding.
Applications are being accepted now, and we'll review entries through Aug. 30. We hope to see lots of Johns Hopkins University teams apply, as we learned so much there of what we needed to be successful.
Yair Flicker (master's degree in computer science, 2006), started SmartLogic, which develops web and mobile apps, in 2005 in his apartment with a friend and classmate. Margaret Roth (master's degree in teaching, 2012; bachelor's degree in English, literature and environmental Earth science, 2011), made friendships in a school of education classroom in 2011 that would become Yet Analytics. Today, they serve on the board of ETC Baltimore and work to support the next generation of Baltimore startup founders.
Connect with Flicker on LinkedIn or at [email protected]. Contact Roth on LinkedIn or at [email protected].