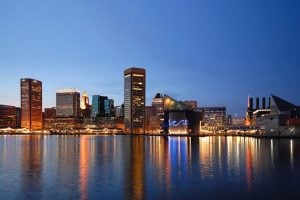 A recent study from Smart Asset ranked Baltimore as the No. 2 city in the country for women in tech. The study looked at four factors: gender pay gap for women in tech; income after housing for women; women as a percent of the tech workforce; and the percent change in tech jobs. Smart Asset noted that women make up almost a third of the tech workforce in Baltimore and that tech jobs grew by almost 30 percent between 2014 and 2017.
We in the Johns Hopkins entrepreneurial ecosystem already knew, of course, that ours is an inclusive one. Still, encouraged by this recognition — and in celebration of Women's History Month — we asked female entrepreneurs what makes Baltimore such a great place for women in tech.
Wendy Perrow, CEO, AsclepiX Therapeutics
Baltimore is a wonderful place for women leaders in biotechnology, as we have some of the most innovative technologies being created from the University of Maryland and The Johns Hopkins University! The richness of the intellectual property in Baltimore has led to me leading two companies in Maryland, with new technology from both institutions. As a member of Gov. Larry Hogan's Life Science Advisory Board, we are working to make Maryland a top scientific hub by 2023.
The workspaces created by the University of Maryland BioPark and Johns Hopkins Technology Ventures' FastForward allow us to keep working with our founders and creators of their innovative technologies in Baltimore. Our goal in Baltimore and Maryland as a whole is to create new and innovative products, vaccines and medical devices that can treat patients and reduce the treatment burden for unmet medical needs.
Brittany Young, founder, B-360
Baltimore is a good place for women in tech because we are able to form our own communities within a larger ecosystem. Often, entrepreneurship can seem like a lonely journey, and being a woman in tech can seem even more isolating, but groups like Baltimore Women in Technology connect you with other like-minded women and opportunities for growth.
Kristen Valdes, founder and CEO, b.well Connected Health
While the b.well team is spread out across the country, we can't imagine our home base being anywhere other than Baltimore. Having spent my entire career working with the Centers for Medicare & Medicaid Services and world-class institutions such as Johns Hopkins and the University of Maryland, it made perfect sense to have our headquarters here.
Thanks to our close proximity to these leading health care organizations in the region, greater Baltimore has been a key player in b.well's early success. We believe that Baltimore can be and should be the health information technology capital of the United States.
Kristin Yim (WSE '20), project lead, Semester.ly
The Johns Hopkins University and all the administrators have been open to all my ideas, many of which are coming to fruition. I have a great support system here from the computer science department, Center for Leadership Education and student government. I'm part of Women in Computer Science, and I love being able to bounce new feature ideas off of the girls (and guys) that attend our meetings. It's also given me the opportunity to mentor other girls and give advice on entrepreneurship and spread the word about the resources that are available.
FastForwardU has been great about giving us space to work, connecting us to other entrepreneurs and notifying us of grant opportunities. FastForward also got us an ad hoc legal consultation when we were really stressed on a deadline.
Aimee Martin, CEO, MileMarker
Baltimore has a strong and growing network of women in tech. Our top universities and effective government-supported programs recognize the value of women entrepreneurs who are solving important problems through their businesses. It's a great place to build women-led ventures and a wonderful place to live.
Pava LaPere (KSAS '19), president and co-founder, TCO Labs, project lead, EcoMap
The best part about Baltimore is the flexibility built into our entrepreneurial community and culture. There is the feeling that we should do what is right — not just what has been done or what is easiest. I think an environment that allows women in tech to thrive comes from this will to solve problems as well as the close-knit community we have. Baltimore may be a smaller city, but that makes for strong relationships, allowing us to build great support networks regardless of where we come from.
Carolyn Yarina, CEO and co-founder, Sisu Global Health
Baltimore has been an incredibly supportive ecosystem for Sisu Global Health. We are proud that the majority of our financing has come from the Baltimore area and we've had great mentors, peers and partners all concentrated here in Baltimore. There also are supportive groups and ecosystems for women entrepreneurs and women in tech (Baltimore Women in Tech, for example).
The ecosystem encourages involvement and giving back. Sisu's co-founders speak to high school students about getting more girls into STEM, and entrepreneurship classes to provide an example to female entrepreneurs. Many of our peers do the same.
Still, there is more we can do to level the playing field and address the unconscious (and conscious) biases against women in tech. What I love about Baltimore's culture is that we aren't afraid to admit our shortcomings and to improve. I look forward to seeing that continued improvement.