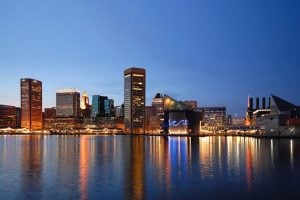 Parity Homes Receives $2M for West Baltimore Development
The grant from JPMorgan Morgan Chase will enable 200 low-income households to purchase homes being renovated by Parity, a Social Innovation Lab alumnus.
4 Startups Named to Technical.ly's RealLIST Startups
Flave, EcoMap Technologies, CurieDx and Dyslexia Advocation were among the 20 companies cited by Technical.ly as the most promising in the region.
ClearMask, emocha Named 'Startups to Watch'
The companies were two of five Baltimore-area companies cited by Maryland Inno.
Longeviti Raises $5M, Will Move to Port Covington
The medical device startup says it has seen 70% annual growth during the pandemic. Its new headquarters will be in City Garage, near its manufacturing facility.
Thrive's Early Cancer Detection Technology Being Used at Pa. Health System
Exact Sciences, Thrive's parent company, "has joined forces with Pennsylvania-based hospital Jefferson Health to simulate the screening in a real-world setting."
Kristen Valdes Named One of the 'Women in Health IT to Watch in 2022'
The b.well Connected Health founder was one of two dozen women honored by Becker's Hospital Review.
PGDx Acquired by Labcorp for $450M
"Labcorp said the acquisition of PGDx will enhance its ability to open up accesto the[next generation sequencing] technology at hospitals, and bring it to pharmaceutical companies for clinical trial research."
Avidea Acquired by Vaccitech for $40M
"Avidea's SNAPvax platform allows for the creation of better and stronger immunotherapies for cancer and infectious diseases by utilizing a part of the immune system called T-cells."
The digital health education platform is joining Elsevier's global education media portfolio.
CLLCTIVLY Wins GBC Bridging the Gap Achievement Award
The Social Innovation Lab alumnus, which brings together black-led organizations in greater Baltimore, was honored as a successful minority or women-owned business.
b.well Wins Healthcare Pitch Competition
The digital health startup beat out 100 other companies to take the top spot in the Louisville Healthcare CEO Council's CareTech Pitch competition, held annually to identify outstanding innovations that address critical needs in the healthcare aging space.
BurnAlong, Regional American Diabetes Association Chapter Collaborate
The startup and the ADA are creating "a new initiative of diabetes prevention video classes and programming created by diabetes experts, and the ADA's risk assessment for employers to use for diabetes awareness and prevention within their workforces."
TEDCO Invests in Johns Hopkins Spinouts
BLOCKsynop, Capsulomics, Evincis Bio, Geothermal Technologies, Kubanda Cryotherapy and Synteris each received $150,000 from the Maryland Innovation Initiative.
Ecosystem News
Baltimore-Area Startups Raised Record $768M in 2021
The $768.4M in venture capital investments across 78 deals in the region "blew past 2020's totals of $509.5 million and 74 deals, and 2019's comparatively paltry $279.3 million over 77 deals," according to PitchBook data.
Johns Hopkins Leads Nation Again in Research Spending 
The university spent a record $3.11 billion — nearly twice as much as the next highest-spending institution — in FY20, the 42nd consecutive year Johns Hopkins has topped the list.
Three from Hopkins Named to National Academy of Inventors
Cardiologist Ronald Berger, neurologist Ted Dawson, and biomedical engineer Jordan Green were among 164 people selected nationwide.
Jamie Spangler Receives 2022 Damon Runyon-Rachleff Innovation Award
Spangler, the William R. Brody Faculty Scholar and assistant professor in the departments of biomedical engineering and chemical and biomolecular engineering, was honored for her project, :Engineering multispecific down-regulating antibodies to advance cancer immunotherapy," with an award that supports "exceptionally creative thinkers with a revolutionary idea that has strong potential for high impact in the cancer field."
Christy Wyskiel Talks Future of Baltimore
JHTV's executive director tells Technical.ly that the city's economic future depends on inclusion.
Liz Burger Shares JHTV's New Year's Resolution
JHTV's senior director for strategic initiatives, tells Technical.ly that JHTV wants to "use every presentation as an opportunity to compel people to care about and support the high-impact work we do."
UpSurge Baltimore Receives $250,000 Grant
The funding from Capital One will go toward UpSurge's goal of turning Baltimore into the nation's first "Equitech" city, an innovation hub that emphasizes diversity and inclusion and supports companies that drive progress in society.
Innov8MD, a network supporting student entrepreneurs in Maryland, has put on programming to showcase student-run startups and a pre-accelerator program to provide resources