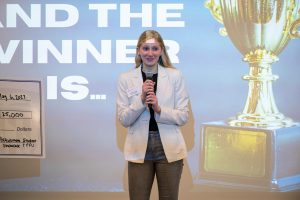 FastForward U closed out the spring semester by collaborating with organizations across The Johns Hopkins University campus on student venture pitch events.
FastForward U helped promote all of the pitch competitions in the weeks leading up to the events as a way to celebrate student innovation across the university, says Josh Ambrose, director of student ventures.
"While FastForward U has its own pitch competitions and events, we also serve as a hub of innovation and entrepreneurship for all Johns Hopkins students," he says. "Innovators across the university are working on amazing projects, so we are always looking to help highlight their successes and connect them with any resources that we can."
The pitch competitions included:
FastForward U plans to continue to support the pitch competitions in the years ahead, Ambrose says.
"We put fresh energy this year toward promoting all of the events together and we were happy with the turnout and response," he says. "Student entrepreneurship and innovation continues to grow exponentially at Johns Hopkins, thanks to our invested faculty and staff leaders across campus, and we look forward to our brilliant student ventures continuing to attract the attention they deserve."
Contact Ambrose for connections to any of the programs or information on the participating teams.