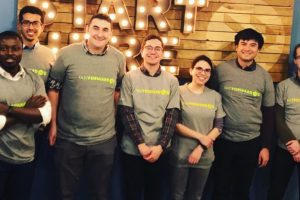 Four teams of graduate student entrepreneurs, whose goals range from creating a better beaker to enhancing the visibility of black scientists, have been selected to receive $5,000 in grant funding through Johns Hopkins University's FastForward U.
Forty teams applied for the inaugural Graduate Student Award, a response that demonstrates the need for such funding in the Johns Hopkins ecosystem, according to Kevin Carter, FastForward U's student venture coordinator. Each grant recipient also will receive mentorship from experts in their field, serial entrepreneurs and investors, as well as additional resources from FastForward U and Johns Hopkins Technology Ventures.
"We're thrilled with the amount of entrepreneurial interest from our graduate student community," Carter said. "We're very much looking forward to working with these four teams to jump-start their ventures over the course of the spring semester."
The team: Michael Hopkins (Johns Hopkins University School of Medicine)
The pitch: A STEM outreach initiative that encourages minority participation, builds a community of support and showcases pivotal discoveries of black scientists.
Black Scientists Matter aims to address a troubling statistic: black men and women comprise just 5 percent of the United States' STEM workforce. The startup is in talks with Johns Hopkins to start a science-based internship program with local high school students interested in conducting laboratory research. Black Scientists Matter has already sold more than $8,000 in "Black Scientists Matter" merchandise to reinforce its mission statement and maintains an active social media presence to spread its message. The company will use the grant funding to become a nonprofit organization and establish a college scholarship for a high school student interested in pursuing a career in science.
MedScholar
The team: Olufemi Erinoso, Osaghae Ikpomwosa, Abigail Reich and Joe Amoah (all from Bloomberg School of Public Health)
The pitch: An e-learning platform providing health-centered educational content to physicians and dentists in Africa.
Each of MedScholar's founders has experience in public health education, training or implementation in sub-Saharan Africa. There, they observed the high cost of on-site teaching and administering tests to clinicians, as well as outdated class materials — and that was if the doctors could even get to the class in the first place. MedScholar's online portal and mobile app are now used by more than 100 doctors in Nigeria, and the company recently signed an agreement with the national physicians' group that will add 1,600 users. The courses are self-paced and specific to the African population and health system. Users also are able to network with colleagues through the platform.
Modular Labs
The team: Dimitri Tselenchuk, Joseph Varriale, Jin-Yih Low and Roshan Chikarmane (all from the Johns Hopkins University School of Medicine)
The pitch: Transforming laboratories by developing products that make great science safe, efficient and sustainable.
Lab equipment has yet to appropriately evolve to meet the environmental, operational and financial needs of today's scientists. Modular Labs' first product is a vessel designed for mixing dry chemicals into liquid solutions. This "beaker and bottle in one" helps increase the efficiency of labwork while also reducing the waste of single-use plastic containers. The modular design also cuts down the need to store unused vessels in the lab. The company, whose founders have a combined 20 years of experience working in industry, academic and government labs around the world, is currently conducting market research and previously received a $1,000 Spark Grant from FastForward U.
The team: Tristan Ford, Laura Scavo and Adam Goodwin (all from Whiting School of Engineering)
The pitch: VectorWeb, a surveillance system of cloud-connected smart mosquito traps that remotely and automatically identify field-collected mosquito specimens.
More than a half million people die each year from mosquito-borne diseases, and billions of dollars are spent annually on mosquito surveillance and control. Tracking mosquito populations is critical to designing effective control strategies, but current methods are slow and expensive, requiring mosquito traps to be manually set and their contents later manually counted and identified. VecTech's smart-imaging attachment for commercial mosquito traps allows public health systems to collect surveillance data faster through the company's image classification algorithms fueled by a large, proprietary database. The project is supported by $1.3 million in nondilutive funding from a U.S. Agency for International Development Combating Zika and Future Threats Grand Challenge Grant and the International Vector Control Consortium. VecTech also has one patent filed through Johns Hopkins Technology Ventures and is working on another.