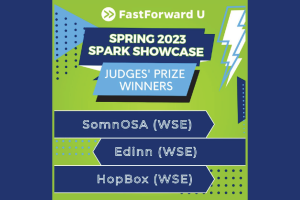 In Baltimore's Remington neighborhood, not far from the Homewood Campus, The Johns Hopkins University's FastForwardU encourages, coaches and enables entrepreneurs and innovators to move their ideas forward and out into the world.
Within FastForwardU, the Spark Accelerator works with all levels of students, from undergrad to postdoc, to support their entrepreneurial spirit and help them turn their ideas into viable businesses.
This Spring's Spark Student Showcase on May 3 was the culmination of the twelve-week intensive accelerator, held twice yearly. This spring, 28 idea-stage student startup teams across many disciplines were accepted into the program.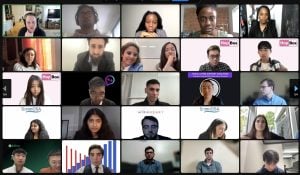 The teams participate in skill-building workshops, interview stakeholders and receive mentorship in order to understand the fundamentals of entrepreneurship and to create a viable incorporation-ready venture, able to leverage early-stage resources in the Johns Hopkins and Baltimore ecosystems.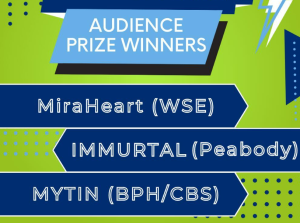 May 3rd's virtual showcase split up founders into three virtual breakout rooms, where they pitched to more than 100 attendees online. Audience Choice Awards were awarded to IMMURTAL, MiraHeart, and MYTIN and the Judges' Choice Awards were given to Edinn, HopBox and SomnOSA. Guest judges included Kellie Clark, Lauretta Hamza, Aaron Hsu, Tom Jaklitsch, Kevin Keenahan and Keyona Meeks.