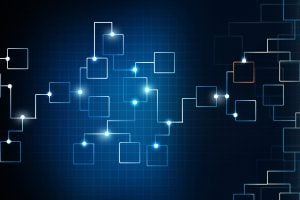 Print, sign, scan, forward, repeat. The process seems straightforward, but it caused delays and headaches for the Johns Hopkins Technology Ventures (JHTV) contracts team and the faculty with whom they worked.
Out of the office? Good luck finding a printer. Signed your Material Transfer Agreement (MTA) or Non-Disclosure Agreement (NDA)? The scans were sometimes unreadable, necessitating they be re-sent.
These inefficiencies couldn't last in an office that completed more than 4,000 MTAs each of the past two years. Fortunately, the contracts team found a solution, DocuSign. The electronic signature and document management system enables parties to simultaneously review and digitally sign documents from their phone, tablet or computer. In essence, the software transforms document finalization from a backroad with countless stop signs into a clear highway.
After months of troubleshooting and a soft launch for "frequent flyer" faculty members run by the team's paralegal, Amy Howard, the Contracts team fully implemented the digital signature process in May 2017.
"Introducing DocuSign to our workflow was one of the most impactful things we did in fiscal year 2017," says Steve Kousouris, JHTV's Senior Director of Finance and Administration. "It has increased faculty satisfaction, improved productivity and decreased the amount of time in which we received signed and finalized documents."
The addition of DocuSign led to Kousouris setting an ambitious goal for the team: processing 500 MTAs and NDAs in the three months before the close of the fiscal year. Not only did the team meet that goal, they exceeded it by 20 percent and showed improvement in processing speed. A thermometer made by Contract Associate Susan Liew and her two children helped the team track its progress.
In the fourth quarter, the Contracts team received more than 200 MTA requests and completed 67 percent within five days and 94 percent within 30 days, the highest rate since at least the start of fiscal year 2009. Mirroring that fourth quarter performance, the team processed 56 percent of the approximately 90 NDAs it received within five days. Ninety-three percent were completed within 30 days.
"Spending less time on administrative tasks like scanning, printing and emailing multiple contacts for each agreement allows us to speed up our transaction times and enables our associates to take on more agreements," says Nekeshia Maloney, Director of the Contracts team. "DocuSign reduces the number of emails we send to faculty and outside parties as it automatically follows up every two days. Once signed by all, it packages the signatures into a single document and routes it to the parties for their records. This is where the real time-saving efforts happen."
Maloney points out that this revamped process allows Johns Hopkins faculty members to more quickly receive or send materials and move forward with collaborations. Ultimately, she says, this only furthers JHTV on its mission to bring life-changing technologies to the world.
The Contracts team's success hasn't gone unnoticed. Other parts of JHTV — including the licensing, finance and HR teams — have adopted DocuSign to streamline their processes and to provide better service to stakeholders.
The implementation of DocuSign is just the latest example of JHTV's commitment to customer service. Over the past year, JHTV has launched a re-designed website, added functionality to its technology search and implemented the 2-2-2 initiative to streamline how it processed invention disclosures.