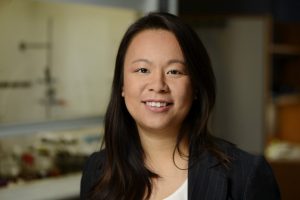 Two faculty members affiliated from the Johns Hopkins Whiting School of Engineering have received grants for their research through the Cohen Translational Engineering Fund.
The fund, made possible by a generous commitment from Neil Cohen '83 and his wife, Sherry, serves as a catalyst for translating cutting-edge research into practice by providing faculty with critical early funding. The grant is designed to help researchers move their work out of the laboratory — the process includes development of patents, obtaining materials and supplies, and building prototypes.
Since its inception six years ago, the Cohen fund has granted nearly $1 million for 24 projects. This year, the fund changed its grant cycle to an annual award, raised the maximum application budget to $100,000 and increased the project length to nine months.
"We sought to implement several changes to enhance the Cohen Translational Engineering Fund this year, including increasing the funding amount," says Cohen. "Our mission in establishing the program with the Whiting School was to provide more opportunities for our engineering faculty to bridge the gap between idea generation and tangible, real-world applications. We wanted to help make their innovations come to life. I am pleased to see that our efforts in boosting the program paid off in not only substantially increasing the number of applications but also the quality of their ventures."
A panel of independent researchers and investors, innovation executives and venture investors heard presentations from the six faculty finalists last month at the Wyman Park Building on the campus of The Johns Hopkins University.
"This year's recipients reflect both the broad impact of Whiting School faculty and the catalytic impact of the Cohen fund," says Brian Stansky, senior director of FastForward. "We truly appreciate the increased size and duration of the Cohen awards and Neil's personal commitment to commercializing research throughout the Whiting School."
The grantees, detailed below, will meet with Johns Hopkins Technology Ventures (JHTV) staff at the end of the project and work on a one-page marketing summary for their work.
SulAnchor Cathodes for High Charge/Discharge Lithium Sulfur Batteries
Principal investigator: V. Sara Thoi, assistant professor, Department of Chemistry
The pitch: Building a longer-lasting and less-toxic battery
A lithium sulfur (Li-S) battery can store twice as much energy as a traditional lithium ion battery (LIB), and sulfur costs significantly less than the lithium metal oxide used in LIBs. An Li-S battery could extend the driving range of electric vehicles from 250 miles to 1,750 miles. The primary drawback of Li-S batteries, however, is they have shorter lifetimes than LIBs. Thoi, working with a team of graduate students, developed SulAnchor technology that targets the electrochemical process of Li-S batteries to increase their life cycle.
These new Li-S batteries could be used for consumer electronics and large-scale stationary energy storage, as well as in the heavy electric vehicle industry, where long-range and high-payload transportation will need high-energy, lightweight batteries. Li-S batteries with SulAnchor technology also have remarkable energy storage capabilities at various charge and discharge rates, allowing stable recharging in as fast as 15 minutes.
Johns Hopkins Technology Ventures is pursuing patent protection for the technology.
"Funds from the Cohen award will enable Dr. Thoi to make important scale and form factor changes to her innovative battery cathode technology, thereby opening up a large number of markets," says Stansky.
Vaso-Lock: A 3D Printed Coupling Device for Microvascular Anastomosis
Principal investigator: Sung Hoon Kang, assistant professor in the Department of Mechanical Engineering
The pitch: A 3D-printed medical device that simplifies a complicated surgical procedure
Microvascular anastomosis is a highly specialized surgical technique of hand-sewing together blood vessels in plastic and reconstructive surgery along with many other surgical specialties. While a common procedure, it requires years of training and practice, and hours to complete in the operating room. Kang, working with a team of vascular and microvascular plastic surgeons, used 3D printing to create Vaso-Lock, which holds together free vascular ends instead of requiring stitches. The stent is made from materials approved by the Food and Drug Administration, and it is biocompatible.
By simplifying a complex surgical technique, the inventors hope to reduce operative time while allowing for more vessel coupling during the procedure, improve patient outcomes and safety, and make microvascular and vascular anastomosis more globally available.
JHTV is pursuing patent protection for the technology. The inventors also plan to form a startup to commercialize the innovation.
"Dr. Kang's leading-edge work in material science enabled an innovative surgical idea to come to life," says Stansky. "The resulting product could bring significant benefits to both patients and surgeons through faster, easier and safer anastomosis."