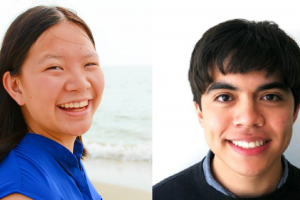 The following was written by Erica Avery, FastForward U's communications intern.
Zandy Wong and Daniel Fleury had not even stepped onto The Johns Hopkins University campus last fall when they created an app as part of FastForward U's Spark accelerator.
Their Cognitivae platform allows users to anonymously talk with a chatbot to explore options for diagnosis and personalized therapy, digitally removing the stigma from mental health evaluation. Users can be matched with live counselors after an evaluation. Cognitivae seeks to improve overall mental health and wellness long-term with modules for cognitive behavior therapy and dialectical behavior therapy — forms of talk therapy that help patient identify and improve negative thoughts and behaviors.
The app also aims to solve current problems with mental health hotlines, such as waiting for counselors or therapists during a crisis and inconsistency triaging patients in the counseling system. Cognitivae can collect all of a user's counseling information and resources in one place and eventually wants to partner with certified counselors and therapists.
"It's more comfortable and less overwhelming if the AI can do everything for you," Fleury said. "We always expect people to select what's best for them but some people don't know what resource is best when they're bombarded with lists, so this is step-by-step and streamlined from the beginning."
Wong and Fleury met during social Zoom events last August for incoming freshmen and became fast friends due to their shared interest in playing the piano and later discovered they both supported mental health advocacy efforts.
Fleury, a computer science major, has tackled the multilateral AI development of the app, creating language models that can understand and then triage, diagnose and treat nine different mental health conditions. He is working with psychiatrists at the Mayo Clinic in Minnesota to cross-validate the specificity of the language model's conversational screening process.
"We wanted to bring mental health equity to underprivileged and underrepresented demographics in our current mental health care system," Fleury said.
The founders believe combining human and AI elements creates an efficient, seamless process for triage, diagnosis and treatment.
"A lot of mental health applications on the market don't hit two birds with one stone— they're either purely AI, which is the Silicon Valley motive, or purely human-centered," Fleury said. "What we've done is combine those two elements into one single app experience to make it as seamless as possible."
Fleury and Wong applied to the Spark accelerator to help them with seed funding but said the program also sharpened their market focus and showed how much market research they had to do. The pair met with a strategic advisor, Shah Md Mayen Uddin Chistee, to help design their business model.
"The self-pacing has helped us learn a lot— we made a lot of progress meeting with our advisor and other entrepreneurs," Fleury said. "It's interesting to see how other people's experiences can add to our knowledge and help us ask questions that will help move us forward. We've been really grateful for the experience."
Fleury said Cognitivae considers mental health interconnected with things like economic independence, and cannot be detached from every other sense of wellness. A 2016 study by the World Health Organization estimated $1 trillion is lost in productivity worldwide each year due to depression and anxiety.
"A lot of states, legislation and hotline systems around mental health operate under the assumption that it's purely mental health they're dealing with, but people don't understand that mental health is so multideterminant and it literally effects your ability to go to work, get a job, be productive at school, get up in the morning," Fleury said. "If we could contribute reenergizing people to reach the full capacity they can be, it would be an extraordinary step forward."
Fleury and Wong have partnered with University of St. Thomas in Minnesota to begin gathering data on users and are already seeing social and societal connections.
"I found there are minority students that don't feel comfortable talking with non-minority counselors," Fleury said. "We're observing a lack of minority students reaching out, which in turn creates a horribly disproportionate gap of how they're treated for mental health."