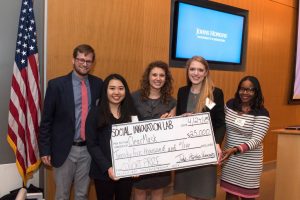 As Allysa Dittmar looked up at her surgery team's masked faces, she felt isolated. Though nobly intended to prevent the spread of bacteria, the masks acted as a different type of barrier for Dittmar, who is deaf. Unable to read her doctors' lips or see their expressions, and thus unable to understand or communicate, she felt less than human, she says.
Drawing upon this experience, the Johns Hopkins alumnus (Krieger School of Arts and Sciences 2014, Bloomberg School of Public Health 2017) co-founded ClearMask. The venture is developing the first full-face transparent surgical mask to improve communication between health care providers and their patients — especially children, those not proficient in English and people who are deaf or hard of hearing.
As the company moves toward an NIH clinical trial (early 2019), FDA approval (fall 2019) and a product launch (late 2019), April 24, 2018 may stand out as a transformative moment. On that day, ClearMask won $25,000 at the Social Innovation Lab's Impact+Innovation Forum and $15,000 at Village Capital's pitch competition at Gallaudet University.
Dittmar says the funding will help ClearMask get to market faster as it will enable them to refine its product and manufacturing methods to maximize efficiency as well as to facilitate meetings and participation at other events.
"We've missed out on a fair amount of opportunities because interpreters were unavailable or not provided," Dittmar says. "We have two team members who are deaf and use sign language to communicate, including myself. With this funding, we will be able to better support our deaf members by providing sign language interpreters for ClearMask's meetings and outreach."
In October, the Social Innovation Lab accepted ClearMask into its 2017-2018 cohort featuring innovative nonprofits, mission-driven companies and disruptive technologies. For six months, with the support of SIL Director Alex Riehm, ClearMask and the nine other ventures received funding, mentorship, office space and workshops.
"Throughout their time with the Social Innovation Lab, the ClearMask team has never hesitated to support other startups and members of the SIL cohort," Riehm says. "This environment is exactly what SIL does best, and I'm happy to have shared this with ClearMask."
ClearMask received the award based on peer evaluations given throughout the six-month program whereby cohort members ranked their peers in seven categories, including empathy, progress, experimentation and generosity.
"The peer feedback process allows us to share concrete opportunities and suggestions among teams throughout the cohort period," Riehm says. "By taking every opportunity for feedback and improvement, we can better support our SIL teams and give them a chance to identify the winning team among them."
Though ClearMask claimed the Impact+Innovation award, the nine other SIL teams made significant strides building ventures that will impact communities in Baltimore and beyond.