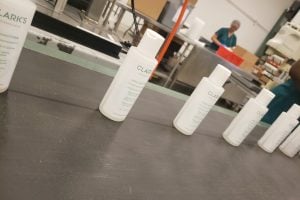 It was Sunday night, March 15, and Francesco Clark started feeling hopeless about COVID-19, the disease caused by the new coronavirus.
But Clark, founder and chief executive officer of skin care company Clark's Botanicals, quickly realized he might be able to help by making hand sanitizer, especially after he saw stories about price gouging as people scrambled to buy large quantities of the disinfectant.
"I can help with that one little thing," he recalls thinking.
By Monday morning, Clark, a 2000 graduate of the Krieger School of Arts and Sciences, was on the phone with one of his factories in Florida to start production. This week, a total of 10,000 bottles of hand sanitizer are arriving in a New Jersey warehouse for distribution.
Clark's Botanicals is adding a bottle of hand sanitizer to all its orders at no cost and is working with online retailers, such as Revolve, to include bottles in orders. In addition, Clark's Botanicals will sell the 4 oz.-gel bottles at cost — $8.63, with a limit of three per purchase, as well as donate bottles to health care workers.
All of the hand sanitizer is made with 71 percent alcohol as the primary ingredient, according to Clark. Infectious disease experts at Johns Hopkins Medicine recommend using hand sanitizer that is at least 60 percent alcohol.
"I have never been through a new product production pipeline in four days," he says with a laugh. "Every person on the Clark's Botanicals team was doing something out of our job description."
Clark says his company plans to produce hand sanitizer "indefinitely" and is talking with the four other factories he works with about converting their production lines.
Having suffered a spinal cord injury 18 years ago that left him paralyzed, Clark is accustomed to working from home. One thing he finds helpful is setting up a rigid schedule.
"You can lose structure very quickly," he says.
It's also why one of the social media hashtags Clark's Botanicals is using to promote its effort is #CleanHandsClearMind.
"Despite feeling so remote, there is a way to come together," he says.