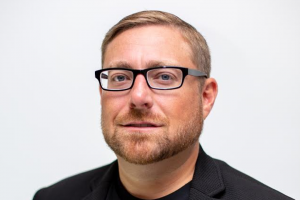 A group of Baltimore-area digital health startup founders talked shop with Olive CEO Sean Lane during the inaugural CEO roundtable presented by Chesapeake Digital Health Exchange (CDHX).
The mid-December virtual meetup was part of CDHX's mission to foster direct relationships among CEOs in the mid-Atlantic and to develop a stronger network for digital health companies, said Mark Komisky, CDHX program director, in his welcoming remarks.
"When I ran my startups, I learned a lot from startup CEOs who were a little further down the path than I was, because they help you avoid stepping in the same potholes they stepped in along the way," he said.
The roundtable was a homecoming of sorts for Lane, who worked at the National Security Agency before founding Columbia-based BTS and later cofounding the Betamore incubator.
"Baltimore is where it all started for me," he said. "My heart is super warm hearing all of these stories of entrepreneurs beginning because I remember those days very, very fondly."
The local entrepreneurs who took part in the CEO roundtable were Melissa MacClary of Artifact Health, William Chan of Iodine, Jeehye Yun of RedShred, Kristen Valdes of b.well, Matt Severson of Precog Health, Sebastian Seiguer of emocha, Eric Hamrock of StoCastic, Nick Culbertson of Protenus and Therese Canares of OtoPhoto.
In 2012, Lane moved back to his hometown in rural Ohio to help with its prescription drug crisis. He quickly realized that health care systems were not talking to one another, and he set out to build a connecting platform. Olive's "AI workforce" technology now helps 700 hospitals across the country with administrative workflows. The company employs more than 500 people, has raised over $400 million in venture capital funding and recently opened a satellite office in Baltimore.
But Olive was not an overnight success, Lane stressed to the entrepreneurs. He and his team discarded 27 products, less than half of which were tested in hospitals, before landing on Olive, and they spent $30 million in product testing.
Lane talked about sales strategy, pricing models and product development with his fellow CEOs during the roundtable.
"Our return on investment is very crystal clear — it's either cost reduction or revenue increase, period," he said.
Lane also encouraged the startup founders to hone their company's story for pitching to prospective clients.
"People want to be captivated by things," he said. "If you can paint a captivating story and grab them and get them excited, I think that's a lot. Because until you get a chance to prove it, that's all you've got. You have to come through on what you said, and then you have the perfect storm."
On hiring, Lane reiterated the saying "the people you hire is the company you build." A CEO of a company with fewer than 10 people should get to know every employee to ensure the right people are being hired. As the company grows, "hire a 'chief people officer' faster than you would ever imagine would matter," he said.
CDHX will continue to link CEOs and entrepreneurs throughout 2021, with a focus on helping founders connect with potential investors and partners. See the CDHX website for upcoming events.