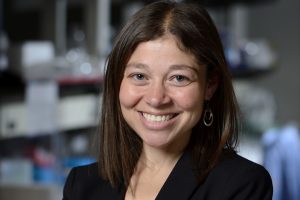 Three Johns Hopkins professors have received grants for their research through the Bisciotti Foundation Translational Fund.
Established with a generous multiyear gift from the Stephen & Renee Bisciotti Foundation, the fund provides $300,000 annually in seed money to advance Johns Hopkins discoveries on a commercial path. Recipients are awarded between $25,000 and $100,000 to conduct their work over a period of up to nine months.
For this year's funding round, 27 applications were submitted. Six finalists presented their work in late January to an outside panel of researchers, other scientists and investors.
Each applicant has made a report of invention to Johns Hopkins Technology Ventures (JHTV).
"All three projects receiving funding are emblematic of the significant level of discovery and innovation coming from Johns Hopkins faculty," says Brian Stansky, senior director of FastForward, JHTV's startup program. "The funding will help advance novel research in the areas of neuroplastic and reconstructive surgery, cancer metastasis treatment and repairing damaged corneas."
Applications for another translational fund, the Louis B. Thalheimer Fund for Translational Research, are due March 15.
The following researchers and their projects received the Bisciotti Foundation Translational Fund grants.
MRI-Compatible Skull-Embedded Implant for Chronic and Direct Medicine Delivery to Treat Neurologic Pathology
Principal investigator: Chad Gordon, director of neuroplastic and reconstructive surgery and an associate professor of plastic surgery/neurosurgery
The pitch: A skull-embedded, MRI-compatible medicine delivery system to treat chronic brain diseases
The blood-brain barrier almost entirely prevents the delivery of therapeutics to the brain, limiting access to promising or potentially lifesaving medical treatments for patients with brain disease. Gordon's implantable device would bypass the barrier and deliver medicine directly to the brain. The device is drug agnostic, meaning it can be used to treat dozens of conditions, including stroke, Alzheimer's disease and brain tumors such as glioblastoma. A patient with the device implanted also would avoid repeated openings and closings of the skull for follow-up surgeries.
JHTV is pursuing patent protection for the technology. Gordon is a co-founder of Longeviti, a FastForward startup that already has two functional skull implant devices that are approved by the U.S. Food and Drug Administration (FDA) and that have been used by patients across the country.
Navigating the Regulatory Landscape for Clinical Use of iPSC-Derived Corneal Endothelial Cells
Principal investigator: S. Amer Riazuddin, associate professor of ophthalmology at the Wilmer Eye Institute
The pitch: Stem-cell derivatives as alternatives to donor tissue in transplant surgery
The corneal endothelium (CE), the innermost layer of the cornea, is critical for maintaining its transparency. A substantial loss of corneal endothelial cells (CECs) results in corneal edema, which is the leading cause of need for corneal transplants in the United States each year. Although transplant surgeries have been effective, there is a worldwide shortage of transplantable-grade CE.
Riazuddin's laboratory previously developed CECs from stem cells, and the results of preclinical studies recently completed in the lab suggest that these CECs are effective alternatives to donor CE. This could mean that, in the future, transplant surgeries will no longer be dependent on donor tissue. The investigators hope to have FDA approval by the end of the year for a clinical trial that would be led by John Gottsch, Margaret C. Mosher Professor of Ophthalmology at the Wilmer Eye Institute.
JHTV is pursuing patent protection for the technology.
Targeted Blockade of Cancer Metastasis with Engineered Bispecific Antibodies
Principal investigator: Jamie Spangler, assistant professor in the Department of Biomedical Engineering and the Department of Chemical and Biomolecular Engineering
The pitch: A novel way to block cancer from spreading through the body
Metastasis, the spread of cancer from a primary site, is responsible for 90% of all cancer-related deaths. Current treatments, however, are designed to inhibit or reverse growth of the primary tumor and do not address the potential for metastasis. Spangler, working with Denis Wirtz, Johns Hopkins University vice provost for research, engineered antibodies that block a newly discovered biochemical pathway that drives tumor cell migration. A mouse tumor study showed a more than 75% reduction in metastasis using a small amount of the antibody.
Spangler's team is developing the therapy for aggressive forms of pancreatic and breast cancers, but the antibodies could be used to treat a variety of cancers and other diseases. The researchers also plan to collaborate with colleagues at Johns Hopkins who are pursuing other anti-cancer strategies, and they are already working with several oncologists as consultants.
JHTV is pursuing patent protection for the technology.