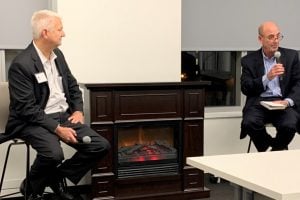 Doug Ward is candid about the challenges facing a biotech startup in Baltimore: a dearth of C-suite talent, nascent infrastructure and few local venture capital investors.
But Ward, the CEO of Personal Genome Diagnostics (PGDx), said recently that he and his company do not plan on leaving any time soon.
"We're committed to Baltimore," Ward said Nov. 14 during a "fireside chat" presented by Anchor Ventures, a speaker series run by Johns Hopkins Technology Ventures, the University System of Maryland and the UM Ventures. "We want to take Baltimore to the rest of our world through our (genome testing) kits."
PGDx's kits offer a range of cancer genome and analysis tools to help patients with late-stage cancer determine the best treatment plans. The Johns Hopkins spinout started by analyzing tests for other labs, but it now aims to give patients results from its own 500-gene-panel test within three days, compared with the current three-week wait after tests are sent to a lab.
"It's wonderful to take such great knowledge out of Johns Hopkins and make a transformative technology," Ward told an audience of about 70 investors, researchers and members of Baltimore's entrepreneurial ecosystem.
Noting that medical monitoring is a $20 billion market, Ward said PGDx hopes to be the first company to receive Food and Drug Administration approval for its gene panel test and is in the midst of its next funding round. PGDx has raised $100 million to date, but Ward said nearly all of the backing has come from outside of Maryland.
"It would be a great Baltimore success story to have a little more interest in investing in local companies," said Ward, adding that Chevy Chase-based New Enterprise Associates has led all of PGDx's funding rounds.
Similarly, while Johns Hopkins and the University System of Maryland provide an incredible pool of science talent, most of PGDx's management team comes from outside the Baltimore region. Ward said attracting talent is not a problem, largely due to the appeal of PGDx's mission, but retaining employees is a challenge as the company grows. PGDx sees about 15% turnover each year in a staff of more than 200, he said, with many employees being "picked off" by companies in Cambridge, Massachusetts, and San Diego.
Ward commutes to Baltimore, staying in the city during the week. His family lives in New Jersey, where his youngest child is in high school. PGDx's leadership team members have bought row houses "all over Canton," he said, but several are not based in Baltimore.
"You really have to wait to get the right people," he said.
PGDx moved less than two years ago into new office and lab space it designed in an old building in the Brewers Hill neighborhood. The company is already at capacity in its new space, however, and Ward said PGDx is deciding whether to move again or buy more buildings in Canton to create a campus.
No matter the logistics, Ward maintained that PGDx will remain focused on its mission.
"The eye on the prize is helping patients — specifically late-stage cancer patients — figure out treatments," he said.
Visit AnchorVentures.org for more information about programs and networking nights in 2020.