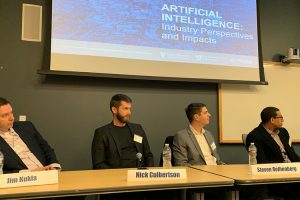 The machines will not take over civilization anytime soon, but they will be important partners in most aspects of daily life.
This was the consensus among four entrepreneurs who use artificial intelligence in their work and who spoke during Artificial Intelligence: Industry Perspectives and Impacts, the latest event from Anchor Ventures, the TEDCO-funded speaker series run by Johns Hopkins Technology Ventures, the University System of Maryland and the University of Maryland, Baltimore.
"Even with autonomous systems, there are going to be human-machine teams," said Ashley Llorens, chief of the Intelligent Systems Center at the Johns Hopkins University Applied Physics Laboratory.
Llorens kicked off the March 14 panel discussion at the University of Maryland BioPark in Baltimore with an overview of the state of artificial intelligence (AI), which he said "encompasses the aspirations of what we think machines will do for us in the future."
Right now, however, machines have major limitations. They cannot perceive or use flexible reasoning, work together in teams or make decisions without being given clear boundaries within which to work — all hallmarks of human thinking, according to Llorens.
Machines, in other words, "can do superhuman game play but not superhuman life play," he told the audience of innovators, entrepreneurs, inventors and ecosystem builders.
In the medical arena, AI already is helping doctors read medical images and prioritize treatments, according to Steven Rothenberg, a radiology resident at the University of Maryland Medical Center.
"There is no better time to be a radiologist," said Rothenberg. "Humans will remain the stewards of precision medicine" but they will be equipped with better tools.
AI is on the verge of conducting quantitative image analysis, which would provide a more objective diagnosis for a patient, Rothenberg said. The challenge, he continued, is making the economic argument for the technology to hospital administrators.
"There is lots of action in research, but it's difficult to translate this into the clinical world," he said.
Among the challenges is patient data privacy. Nick Culbertson, CEO and co-founder of Protenus, a Johns Hopkins alumni startup that protects patient data for health systems, described the "tension" between analyzing data sets to identify and improve inefficiencies and exposing the private data for analysis in the first place.
Protenus adheres to Google's onetime unofficial motto when balancing this tension: "Don't be evil."
"Trust needs to be built" between AI companies and consumers, he added.
That includes watching out for fake content and bias in results, said Jim Kukla, chief technology officer and co-founder of RedShred, a Baltimore startup applying AI to document review and handling.
Bias in AI is "real and measurable," he said. "It's a sociological and policy issue as much as a technological one."
Kukla advocated for as much transparency in the AI industry as possible, noting advancements will keep coming at a rapid pace.
Still, Kukla and the other panelists were confident that all of the innovations would enhance people's lives, not overtake them.
"AI's efficiency will prioritize work and free up users' time," said Culbertson. "It's a hybrid to make life easier."
The next Anchor Ventures event, scheduled for April 25, is the second PowerTEN networking event, during which entrepreneurs, inventors, students and others can spend 10 minutes "ideastorming" with some of the most influential innovators in the Greater Baltimore area. There also will be unscheduled, facilitated networking with other influencers.
To schedule a PowerTEN session, apply here. To attend the unscheduled networking portion of the event, register here.