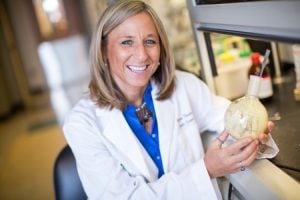 Three Johns Hopkins University researchers have received technology development grants through the Louis B. Thalheimer Fund for Translational Research.
Established through a generous $5.4 million gift from businessman and philanthropist Louis B. Thalheimer, the fund provides seed funding for vital proof-of-concept and validation studies of valuable technologies at Johns Hopkins.
Since 2016, the Thalheimer Fund has awarded more than $1 million to 14 projects. Grants range from $25,000 to $100,000, and all recipients have formally reported their inventions to Johns Hopkins Technology Ventures.
"We are pleased this year to fund a veteran drug hunter, a translationally focused biological engineer and an early-career otolaryngologist," says Nina Urban, former associate director of FastForward, Johns Hopkins Technology Ventures' program for startups. "The funding will help support the development of a potential new therapy for inflammatory bowel disease, ocular gene therapy and a surgical tool for ear surgery."
Twenty-five researchers applied for the latest funding round. Finalists pitched their proposals in June at the 1812 Ashland building to an outside panel of independent researchers and investors, innovation executives and venture investors.
Click here to see all of JHTV's translational funding opportunities.
Safe and Effective Nonviral Ocular Gene Therapy
Principal investigator: Jordan J. Green, professor of biomedical engineering and ophthalmology
Collaborating principal investigator: Peter Campochiaro, professor of ophthalmology and neuroscience
The pitch: A better way to treat blindness with safe and effective ocular genetic medicine.
More than 2 million Americans suffer from retinal vascular diseases that lead to blindness. Treatment generally involves expensive and uncomfortable repeated protein injections into the eye, up to 12 times annually. Yet, many patients still will not regain significant vision and may suffer complications from the procedure. Green and colleagues have developed biodegradable nonviral nanoparticles that can carry large and multiple genes in a single injection with the potential for treatments to last longer than a year.  Through a novel approach, the nanoparticles efficiently carry the genes throughout the retina without stimulating an immune response and an injection can be done in an outpatient setting.  The same technology can also be utilized to treat inherited retinal degenerations, providing noninvasive gene replacement.
The researchers are pursuing patent protection for their technology through JHTV, which also has had discussions with companies interested in collaborating or sponsoring the team's work. The technology is available for licensing through JHTV. 
Development of a Novel Small Molecule GCPII Inhibitor to Treat Inflammatory Bowel Disease
Principal investigator: Barbara S. Slusher, professor of neurology (primary), psychiatry, neuroscience, medicine and oncology, and director, Johns Hopkins Drug Discovery
The pitch: An oral therapy for patients suffering from inflammatory bowel disease.
The U.S. market for prescription drugs to treat inflammatory and irritable bowel syndromes is expected to reach nearly $8 billion by next year. But approximately one-third of patients with inflammatory bowel disease (IBD) do not respond to any given therapy, and there is no cure. Researchers led by Slusher have shown that a particular enzyme, known as GCPII, is 300%-3,000% more active in patients with IBD than patients without the disease. The team developed an orally administered GCPII inhibitor that reduces the enzyme's activity by 90% and prevents disease in multiple murine IBD models.
The researchers eventually plan to seek investigational new drug status from the U.S. Food and Drug Administration. Johns Hopkins Technology Ventures is pursuing patent protections for the technologies.
Autonomously Retractable Endoscope Holder for Otologic and Associated Procedures
Principal investigator: Francis "Pete" Creighton, assistant professor in the Department of Otolaryngology–Head and Neck Surgery
The pitch: A robotic endoscope holder that monitors head motion and allows a surgeon to operate on ears with two hands.
Endoscope holders are common in many surgical fields, allowing a surgeon to use two hands during the procedure. While stationary holders have gained popularity among ear surgeons, the devices pose a variety of safety hazards. A spontaneous movement by a patient could cause the endoscope to damage critical structures of the ear, for example, resulting in loss of hearing, balance or facial muscle function. Creighton, working with Russell Taylor, director of the Whiting School of Engineering Laboratory for Computational Sensing and Robotics, is developing a "smart" endoscope that can detect unintended patient head motion and move the endoscope accordingly. Smart endoscopes could decrease surgery time and provide cost savings for surgical centers. The researchers estimate there are approximately 100,000 cases per year that would benefit from their endoscope holder.
The technology is available for licensing through JHTV.