You are invited to a virtual breakfast chat to listen as gene therapy pioneer Dr. Kathy High tells us her story: that of a clinician researcher whose accomplishments in basic, translational, and clinical investigation include the founding of Spark Therapeutics, the $4.8B company behind Luxturna®, the first gene therapy for genetic disease to obtain regulatory approval in the U.S. and Europe. In conversation with JHTV's Christy Wyskiel, Dr. High will reflect on academic-industry collaborations, academic venture creation, and the future of gene therapy.
Register today to join us on May 11 from 8:30-9:30 a.m. via Zoom. We look forward to seeing you there.
SPEAKER BIOS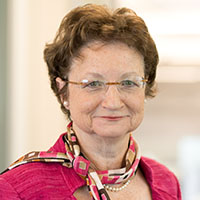 Kathy High, M.D.
An Emeritus Professor at the Perelman School of Medicine at the University of Pennsylvania, her pioneering bench-to-bedside studies of gene therapy for hemophilia led to a series of studies that characterized the human immune response to adeno-associated viral (AAV) vectors in a variety of target tissues. Kathy's work has evolved to encompass clinical translation of potential gene therapies for multiple inherited disorders. As the director of the Center for Cellular and Molecular Therapeutics at the Children's Hospital of Philadelphia (CHOP), Kathy assembled a multidisciplinary team of scientists and researchers working to discover new gene and cell therapies for genetic diseases and to facilitate rapid translation of preclinical discoveries into clinical application. She was the co-founder, president, and chief scientific officer of Spark Therapeutics and currently serves as President of Therapeutics at AskBio. She served a five-year term on the FDA Advisory Committee on Cell, Tissue, and Gene Therapies and is a past president of the American Society of Gene & Cell Therapy (ASGCT). She received her A.B. in chemistry from Harvard University, an M.D. from the University of North Carolina School of Medicine, a business certification from the University of North Carolina Business School Management Institute for Hospital Administrators, and an M.A. from the University of Pennsylvania.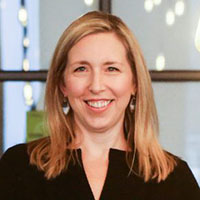 Christy Wyskiel
As the Senior Advisor to the President of Johns Hopkins University for Innovation and Entrepreneurship, Christy also serves as the Executive Director of Johns Hopkins Technology Ventures, the division of the university responsible for technology transfer, industry research partnerships, and company incubation under the brand 'FastForward.' Christy co-founded two Baltimore based startups and served as a formal and informal advisor to many others.  Prior to that, Christy worked as an institutional investor where she had a long track record of successful investing in both public and private companies.