Kick off HopStart 2022 with us!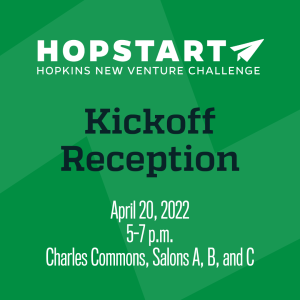 Join us for an evening of networking, prototype demos, and remarks from WSE Dean Ed Schlesinger and Stephanie Chin, Hutch program manager at Baltimore-based Fearless. Already registered attendees should check their emails for instructions on RSVPing to the reception. If you wish to join us for the reception but haven't registered, there's still time!
After 22 years as the JHU Business Plan Competition, we have a new name and a new look. We will also be debuting a new category: Sustainability Ventures. Despite these changes, HopStart: Hopkins New Venture Challenge stays true to our original mission of providing a rigorous learning experience, opportunities for student entrepreneurs to receive mentorship from industry professionals, and prize money to support new student ventures as they develop beyond the classroom and the competition.