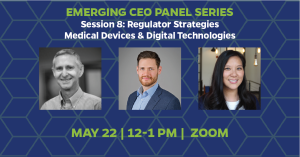 Inventors and startup founders are invited to attend a webinar panel series offered by Johns Hopkins Technology Ventures (JHTV). This series was developed to help inventors and founders avoid blind spots and learn best practices for launching and scaling successful startups.
Webinar Session 8: Regulator Strategies: Medical Devices & Digital Technologies
Our panel will discuss how to navigate the regulatory process for bringing new medical device and digital technologies to market.
TOPICS:
Determining the regulatory pathway
Working with consultants
Pre-submissions
510(k) and predicate devices
Medical devices, digital, and other regulatory paths
Ties to clinical trial design
PANEL:
Peter Hoban, VP – Product Strategy at Oncospace
David Narrow, CEO at Sonavex
Kelliann Wachrathit-Kub, Regulatory Affairs Consultant and Mentor-in-Residence at JHTV