SAVE THE DATE!
For the 8th Annual BioHealth Capital Region Forum on September 20, 2022 – In-Person and Virtual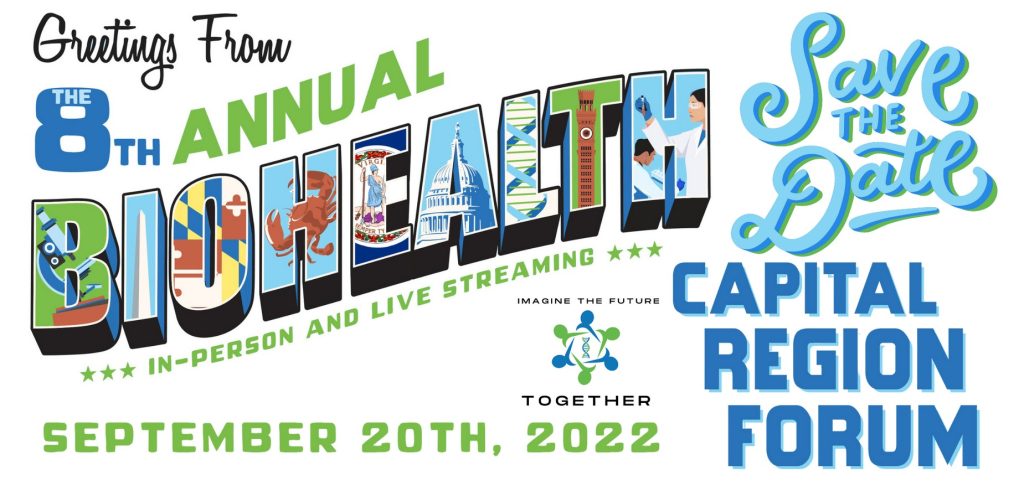 2022 Agenda
Welcoming Remarks – MD/VA/Mont. County
Imagine the Future Together
GEN Top 10 BioCluster Update
BioHealth Capital Region Update
Global Pandemic Prevention & BioDefense Center
Networking Break
Healthcare Innovation and Change – Fireside Chat
Infectious Diseases Resources for Research and Development
US Pharmacopeia Introduction
Lunch Break
The FDA Centers for Regulatory Science and Innovation
Regional Support for BioHealth Entrepreneurs
Stewardship & Sustainability in the BioHealth Industry
ARPA- H
Innovation through Collaboration: Opportunities in the BHCR
BioHealth Investment Climate
Maurice Jones/Diversity Equity and Inclusion – Keynote
Closing Remarks
Registration information coming soon!
This event is free for executive-level biotech leaders and is organized by the following event partners – Association of University Research Parks, AstraZeneca, BioHealth Innovation, BRAINBox Solutions, Inc, Children's National Hospital, Emergent BioSolutions, George Mason University, Johnson & Johnson Innovation – JLABS @ Washington, DC, Maryland Department of Commerce, and Virginia Bio.