Please join us as this year's speaker will be Barbara Slusher, Ph.D., M.A.S. Dr. Slusher is Professor of Neurology (primary), Pharmacology and Molecular Sciences, Psychiatry, Neuroscience, Medicine and Oncology at Johns Hopkins School of Medicine and the Director of Johns Hopkins Drug Discovery. She is the Co-Director for the Johns Hopkins Center for the Advancement of HIV Neurotherapeutics (JH CAHN) serves as the Vice-Director for the Pedersen Brain Science Institute. Dr. Slusher has published over 280 scientific articles and is the inventor on over 100 patents and applications.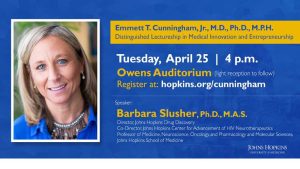 EVENT DETAILS:
Owens Auditorium
The Johns Hopkins Hospital: Koch Cancer Research Building
1551 Jefferson St, Baltimore, MD 21205
Light Reception To Follow
The event is sponsored by the Johns Hopkins University School of Medicine and Johns Hopkins Technology Ventures.