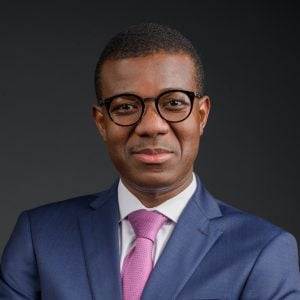 Paul Nkansah, Ph.D., serves as Senior Director of Corporate Partnerships, responsible for cultivating, shaping and managing industry research partnerships that support the advancement and commercialization of Johns Hopkins research. His team manages relationships with over three-dozen industry partners, and has been involved in life science deals with AbbVie, Bayer, Bristol Myers Squibb, Celgene and AstraZeneca; imaging agreements with Canon Medical and Toshiba; and collaborations in biomedical engineering, imaging, diagnostics, speech and language, and health care technologies.
Paul spent 14 years at Pfizer, first as a senior scientist in early-drug discovery and later as a group lead/principal investigator leading discovery teams and providing oversight to small-molecule and biologic programs across a range of therapeutic areas. In his time at Pfizer, he participated in technology transfer/ out-licensing activities, a corporate acquisition and the formation of cooperative research agreements with academic institutions such as Harvard and Duke, and with corporate peers such as AstraZeneca, Lilly and Sanofi.
Prior to Johns Hopkins University, Paul was chief scientific advisor at G.H. Consulting, where he provided strategic and technical guidance to pharmaceutical, biotechnology and life-science clients, as well as providing oversight to U.S. government funded global health projects totaling $620 million. His team consulted for and supported life sciences clients in conducting and managing technology transfers. Paul also was the Technical Director at United States Pharmacopeia from 2015-2019, where he led a $110 million USAID-funded global medicines assess program, which was implemented in 27 countries across Eastern Europe, Asia, Africa and the Americas.
Paul holds a Ph.D. in chemical and biomolecular engineering and master's degrees in biopharmaceutics and material science from the University of Michigan, where he subsequently taught as an adjunct faculty. He has been a Merck research fellow, authored numerous peer-reviewed articles and is a co-inventor of two patents on drug-delivery systems.