NEXVS radically reshapes how 9-1-1 systems, private practitioners, and hospitals coordinate care. We use advanced analytics, so any healthcare system can more efficiently serve their community with the care they need when they need it.
Our Pitch
About Us
The Team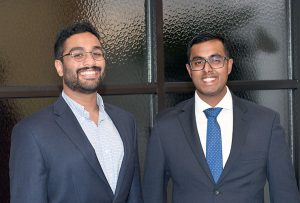 Taj Keshav, Chat Halambe, and Antonio Romero
We are first responders with over 16 years of experience as emergency medical technicians, paramedics, and firefighters, and nearly a decade of public health experience and data analytics. After seeing how often our patients call 9-1-1 and go to the emergency room with medical issues that could be better and more cheaply managed elsewhere, we knew we could make a difference.
At NEXVS, we are a healthcare strategy and innovation consulting firm dedicated to helping hospitals and local 9-1-1 and public health systems better support patients who over-rely on EMS and the emergency room as their primary source of care. Over the course of the past 6 months, we took a problem, conducted customer interviews to better analyze it from multiple perspectives, organized as an LLC, and are currently building an emerging clientele of public and private healthcare administrators interested in our work.
On the Horizon
As we sign initial contracts and build our consulting firm, we are looking for those with experience in financial management, legal expertise for small business, cybersecurity, and marketing/design to join our team and help us manage our operations.
In the News
Contact Us
Email [email protected] to connect with us.