More Watter Co.'s "Movement as Medicine" project offers a comprehensive solution to combat chronic disease in Baltimore City. We leverage the medicinal properties of exercise to educate and empower our community to take control of their health. By building community, and working with healthcare institutions, fitness facilities, and community organizations, we create experiences where exercise meets medicine and provide value-based care to the people we serve.
Our Pitch
About Us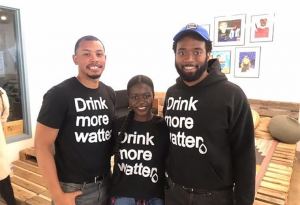 The Team
Anthony Watters, Jr., Founder
We have a website with over 200 subscribers and we are growing our tribe each day with people looking to get healthy. We have developed a curriculum that teaches our tribe how exercise impacts our bodies. We can then use this new information to influence our health outcomes. We have worked with organizations all around the city including MedStar Good Samaritan Hospital, the Be Org, Brilliance in Black, and Baltimore City Public Schools.
Subscribe to the website and engage with us on social media. Buy merchandise. Start a healthy lifestyle habit and tell us about it.
On the Horizon
We are seeking partnerships with researchers and research institutions to do larger case studies and collect more data around exercise and health outcomes.  We are also looking to collaborate with health insurance companies, healthcare providers and fitness facilities to provide value-based care for the people they serve and continue to bridge the gap between medicine and exercise. ​
In the News
Contact Us
Email [email protected] to connect with us.