MindStand utilizes AI to detect workplace harassment and provide personalized insights on workplace inclusion. MindStand AI integrates with Slack, Microsoft Teams, and more to keep business leaders in tune with their culture and community.
Our Pitch
About Us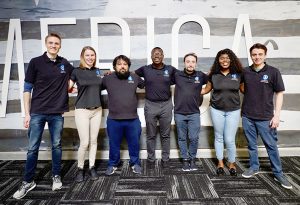 The Team
Michael Ogunsanya, Eric Solender, Nikita Wootten, Alaire Jameson, Taylor Odenath, Steve Byerly, Sam Reynolds, and Steven Dilks
Since founding our company in 2018, MindStand has secured early adopters, pressed funding, and spotlight recognition. Our goal is to keep the workplace inclusive and foster healthy online communities, one post at a time. If you would like to learn more about MindStand & our upcoming release, check us out at mindstand.com!
In the News
Contact Us
Email [email protected] to connect with us.