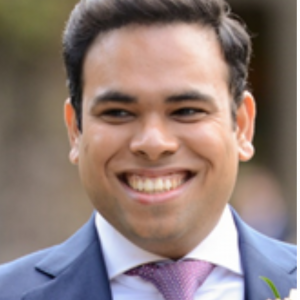 Sathya Elumalai is the Founder and CEO of Aidar Health and a health care executive with 15+ years of experience in improving the quality and safety of healthcare to underprivileged communities.  Born in India, Sathya came to the US for his Master's degree and end up achieving great milestones in the field of healthcare and he is a true example of the American Dream.
At Aidar, Sathya spearheaded the development of a novel point of care, rapid health assessment a product called MouthLab – a single, non-invasive,  'tricorder-style device that can measure 10+ vital health parameters in 30 seconds for monitoring chronic disease patients at home. MouthLab is the world's first FDA Cleared and CE Mark Approved device and it's essentially like a 'check engine' light for humans.
Sathya has also been at the forefront of developing a COVID-19 detection and monitoring system within 4 months in 2020 using the MouthLab device and proprietary machine learning algorithms for early identification of patterns of onset, progression, and recovery, for COVID-19. Sathya has also served in a critical capacity at the Johns Hopkins Medical Institute where he conducted revolutionary research dedicated to improving patient-centered care for chronic obstructive pulmonary disease, venous thromboembolism, and pancreatic cancers, as well as improving the best practices used in patient care delivery through a multi-year study with 90+ top-performing US hospitals.
Sathya has won several prestigious awards/recognitions, authored numerous peer-reviewed articles, and featured in 200+ media publications, including the appearance on local and national television, Fox News, CBS, and ABC's GoodMorning America show. Sathya has contributed tremendously by being a member of organizations that require outstanding achievement – Rutgers University'sBigData Analytics Advisory Board, Patient-Centered Outcome Research Institute, United Nations Global Health Initiative, and Chair Member of the Forbes BusinessCouncil.
Sathya holds a dual master's degree, a Master's in Public Health, and an MBA in healthcare management, from the prestigious Johns Hopkins University. Sathya is a proven leader recognized for building scalable processes, integrating analytics into decision making, improving customer satisfaction, and driving large-scale digital transformations in healthcare.