FastForward U's Homewood building is now open! 320 W 29th St, Baltimore, MD 21211
We are excited to announce that we are re-opening to limited space reservations, with all campus covid protocols observed (masks, social distancing, no food/drink, etc). All users should have a green pass from the Prodensity app to visit and an active J-Card ID to swipe in at the front desk.
FALL AVAILABILITY:
9 AM – midnight, 7 days a week
FastForward U Homewood
Our innovation hub is a co-working, meeting, and event space all-in-one, located in Remington, across the street from R. House, and a short walk from the Johns Hopkins University Homewood campus. We bring people together for creative problem-solving, facilitating student entrepreneurs exploring their extracurricular areas of interest.

Members of the Hotdesk or Accelerator programs have 24/7 access to dedicated facilities. Additionally, our space offers co-working areas, meeting rooms, and event space for use by any student, faculty, or staff working on or supporting innovation. With over 10,000-square-feet, we facilitate collaborative spaces large and small. This includes a 2,000-square-foot Makerspace run by the Whiting School of Engineering, complete with high-tech tools for crafting and prototyping.
With appreciation to Karen and Ethan D. Leder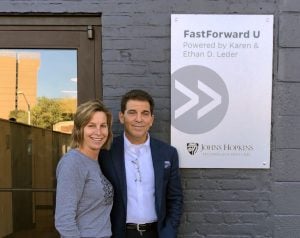 Johns Hopkins University trustee Ethan D. Leder is a 1984 graduate of the Krieger School of Arts and Sciences. As an entrepreneur, he has been focused on building and managing innovative, market-leading companies that address critical gaps in the health-care industry. Mr. Leder has served as an advocate for undergraduate education and innovation. Together with his wife, Karen, the Leders have focused their philanthropy on areas such as education and healthcare.
We are grateful for their early support of the FastForward U building and our student entrepreneurship efforts!
Questions about our space?
Need more information before coming for a visit? Contact us and we will be happy to assist you.


Kerry Ingram
Marketing & Operations Coordinator, FastForward U