FastForward U recently welcomed a new program manager, Sephora Saint-Armand, who will manage the Spark Accelerator program and support the participating student entrepreneurs. Saint-Armand brings her experience in social innovation and with entrepreneurs from all over the world. The following interview details her journey within the startup ecosystem and her goals at FastForward U.
Tell us about your background.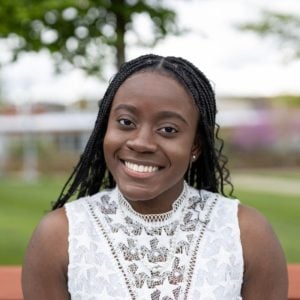 I'm a graduate of SUNY Binghamton and a 2021 Venture for America fellow. Most of my experience involves working with organizations building platforms, supporting innovation and venture creation in New York and beyond. My internship at VentureOut NYC was my earliest exposure to startups and venture capital. The following year, I interned at Guyana Economic Development Trust, an incubator supporting Guyanese founders through resources, capital access and mentorship. As a Caribbean-American, I enjoyed learning about the growing innovation ecosystem in the Caribbean and discovering sustainable ways to nurture it.
After joining Venture for America, I worked as a program associate at Innovation Depot, a non-profit accelerator and incubator based in Birmingham. The focus was to encourage local entrepreneurs to continue pursuing innovation. My role at FastForward U is a logical evolution toward my passion for supporting young innovators.
What inspired you to pursue your current career path?
From an early age, I watched my parents pursue entrepreneurship and saw economic development as a force for good. What resonated with me was the goal of driving economic development from a wealth-building capacity. I enjoy exploring how impact investment operates as a guiding role in building sustainable ecosystems, particularly in under resourced communities – thus, my consistent involvement in social action and civic engagement personally and professionally.
What interests you about entrepreneurship?
Starting with no knowledge of business as a sophomore, venture capital was a new idea to me. What really resonated with me was finding sources of capital for those who wouldn't normally have available opportunities. I learned that venture capital is a highly referential space that leans heavily on pattern-matching. I felt jaded as I observed underrepresented founders not receiving the same support as their counterparts. I look forward to working toward and seeing a future where more venture capital is used to drive social innovation and support founders making an impact in communities that are underserved and underrepresented.
What venture/organization inspires you?
In thinking of social entrepreneurship and impact investment, one venture that I lean into is Obvious Ventures based in California and their approach to Environmental, Social and Governance (ESG) issues as a world positive investment. They believe as the world continues to grapple with issues that affect us all, such as climate change and large income disparity, it will become more imperative for companies to contribute to the environment, and it will become a disadvantage to ignore ESG.
What is your greatest achievement so far?
During the pandemic and the Black Lives Matter movement in 2020, many students on campus wanted to support and contribute to BLM but had no experience with social action. As a junior and president of my sorority, I stepped in and helped create a virtual community building session to encourage activism through the arts. We had about 100 attendees, including university staff members. This was a great achievement because I trusted my intuition and was able to build community and a sense of belonging during a tumultuous time.
What is the most pressing challenge faced by startups?
Possessing the power of discernment, particularly for first- time founders who receive advice from all directions. Regardless of a founder's ecosystem, it is important to have faith in yourself and your team, to understand the value proposition of your product, and to be brutally honest with yourself. Founders who succeed are those who can keep reiterating until they find what works for their target market.
What values do you hope to impart to student founders at Johns Hopkins University?
I am excited about helping founders practice empathy. While working with Spark accelerator teams, I place a strong emphasis on customer discovery – and empathy is a necessary practice to understand potential users. I'm also encouraging entrepreneurs to value strategic judgement as leaders and cofounders.
What do you look forward to the most while working at FastForward U?
I am eager to build upon the quality foundation that FastForward U has created, improving how we engage with the student community and promoting entrepreneurship as a life path for students throughout the Johns Hopkins community.
If you are interested in speaking with Sephora, you're invited to schedule a meeting by emailing us at [email protected].