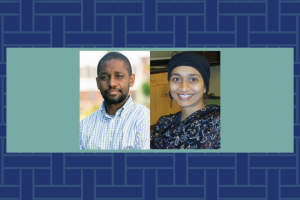 Enigma Science & Technology, a member of the 2021-22 Social Innovation Lab cohort, includes founder Malik Little and medical advisor Anju Little.
SIL: Tell us about your company. What are you working on?
Malik Little: Enigma Science and Technology was established to build solutions grounded in scientific understanding and technical capabilities to strengthen our communities and improve our world. We aim to address some of the challenges we have seen throughout the years related to public safety. We believe some of these issues can be resolved with technology when implemented properly and will be beneficial to all within our society. The first issue that we are addressing is arrest-related deaths within our country. We have determined a solution that could potentially prevent arrest- related deaths and are working hard to get it out there for testing purposes before production.
Why did you decide to start this? Where did the idea come from?
After seeing the issues surrounding public safety and law enforcement in 2020, I wondered in what way could I help to resolve some of these issues. I realized that there is knowledge and capabilities used in the STEM fields daily that could have a transformative good impact when applied to public safety and law enforcement. From there, I went through a period of investigating the issue (primarily arrest-related deaths) to make sure I truly understood it holistically to determine a solution that would support preventing these types of incidents from occurring so often.
In 2020, I received the Archimedes Award from the Johns Hopkins Applied Physics Lab which provided a pathway to go full-time toward building Enigma Science & Technology with solutions that will solve some of society's toughest challenges, starting with reduction of ARDs.
What constitutes success for you?
Seeing wide adoption of our product(s) designed to help make a difference in our communities and country as a whole. We truly believe that for every issue/problem we face there is a solution that is more apparent and achievable than we may originally think. These solutions can be bridge builders to help bring and keep us together as a society when implemented properly.
What have you accomplished so far?
We have finalized a license agreement with my previous employer that will allow Enigma Science and Technology to bring our first product to market to help reduce the amount of arrest related deaths across our country. We also have conducted many customer discovery efforts before and while in SIL to ensure we truly understand the public safety/law enforcement environment and to determine if our initial product is needed and will be beneficial. We have also been accepted to the spring 2022 cohort of Conscious Venture Labs.
How can people get involved in supporting you in your venture?
We would recommend following our company on LinkedIn. Once we come out of "stealth" mode we will be providing more status updates and information on how to get involved.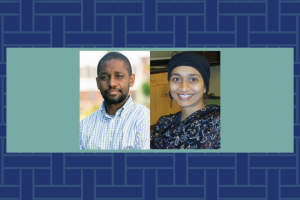 What do you like most about the Baltimore entrepreneurial community? What would you like to see more of?
We are new to the community and we have come across so many founders, organizations and groups willing to provide advice and support. This was something that was not expected but are very grateful to have and will make sure to pay it forward to others.
What advice do you have for would-be social entrepreneurs thinking about starting a venture?
Don't doubt yourself. Just try your best to make it happen. This is something I tell myself over and over again because starting a new venture is not easy. You will experience things that will make you second-, triple- and quadruple-guess yourself and, more than likely, your initial entrepreneurial goals will not occur on your desired timelines. So, again, don't doubt yourself. Just try your best to make it happen.
Why did you apply to SIL?
I applied to SIL because it is an accelerator program designed to help entrepreneurs that are more grounded in improving society. Our company is a "tech venture" but we are developing and providing tech capabilities with the sole purpose of strengthening our communities and improving our world.
Read more about Enigma Science & Technology here. To learn more about the Social Innovation Lab and the 2021–22 cohort, click here. Join them at the SIL Innovators' Showcase event, 5–7 p.m. on April 26.