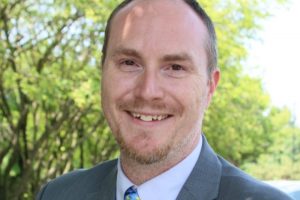 Chris Swanson is a social entrepreneur and director of the Institute for Innovation in Development, Engagement and Learning Systems (IDEALS) in the Johns Hopkins University School of Education, as well as creator of the international teaching and global learning master's cohort program. He leads a team of experts focused on improving the quality of care and education globally, with emphasis on improving cross-sector collaboration around health, social services, care and teaching for young children and vulnerable adults.
In 10 words or less, what does your organization do?
Improve the lives of infants to centenarians.
What would you consider success for your organization, and how would the world be different if it is successful?
Success looks like:
We have transformed systems of human care and education to be integrated with sectors of health and social services so, as societies, we address the needs of people holistically.
These transformed systems are accessible to everyone, anywhere in the world.
These systems changes produce better direct services to children, families and vulnerable adults.
Altering the funding model for public policy initiatives so the collective impact is shared across system operators and agencies, producing more sustainable and impactful approaches to education and human care.
If we are successful, the measure of effective education systems will be shifted from the current standardized assessments to integrated models that consider levels of engagement, overall health and well-being, applied competency in skills and knowledge, and long-term outcomes in dimensions of happiness, productivity and return on public investment. All of this will be applied from childcare, to pre-K-to-college schooling, to adult learning, to assistive and senior care.
And that will mean happier and healthier people who are primed to be more successful and capable.
What advice do you have for would-be social entrepreneurs or other students thinking about starting a venture?
Know your true north. Many people will be tremendous resources to you and you will need their help and advice. You should listen to all, act on some. Know what it is you are seeking to do, and always gauge inputs from others against that litmus test to ensure you are being true to your purpose, your ethics and the mission of your organization.
Trust that good work begets funding. Focus on doing good things that make a difference and the funding will come. Capital is a major need when starting out, but chasing the money is the fastest way to lose your bearings. The temptation will be to take any dollars, as money is obviously needed. Be mindful that the wrong money now can cost you majorly later if the deliverables attached to those dollars take you off mission, stretch your capabilities or compromise your integrity.
Iterate, iterate, iterate! Your messaging, your ideas, your team structures, your products and interventions — these are the places where you can't let your own ego get in the way of continuous quality improvement. Know the reason your work/team exists — the contribution you are making to society — and keep that as your true north. But every conversation you have, every funding pitch, every team meeting and every project implementation should be a feedback loop for you to improve, tighten, clarify and execute.
Social entrepreneurship is about the common good — not just your bottom line. Traditional entrepreneurship is driven by market competition: Make the better widget, win the customer. Here, you must demonstrate that your solution yields better outcomes — greater impacts, increased cost savings, overall efficiency — and that is seldom in isolation. Forming alliances with stakeholders and other constituents, some of whom in a traditional model would be considered "competitors," and knowing how your work complements theirs, is essential to have successful implementation and adoption of your work and thus be a successful social entrepreneur. Being a disruptor isn't about upending the market; it's getting people out of entrenched mindsets and habitual decision-making.
If you could give your past self a piece of advice for creating a startup, what would it be?
Believe these words: You CAN do this. Too much time is lost on listening to all who will tell you what you can't do. Too much energy and time will be wasted in self-doubt — and that is the biggest threat to your success. Believe you CAN be successful and you will find ways to be.
What book are you currently reading?
I'm typically a many-books-at-a-time person. Right now I've got going:
Switch: How to Change Things when Change Is Hard, by Chip and Dan Heath
Re-reading Wonder, by R.J. Palacio, with my daughter
Reading Shooting Lincoln, by Nicholas Pistor, with my son
Educated: A Memoir, by Tara Westover
The Importance of Being Little: What Young Children Really Need from Grownups, by Erika Christakis
Hacking Chinese: A Practical Guide to Learning Mandarin, by Olle Linge
Rosencrantz and Guildenstern are Dead, by Tom Stoppard (for the millionth time because it's my favorite)
The Ghosts of Johns Hopkins: The Life and Legacy that Shaped an American City, by Antero Pietila
Using Collective Impact to Bring Community Change, edited by Norman Walzer and Liz Weaver
Systems Thinking for Social Change, by David Stroh
What innovator do you look up to? Why?
Albert Einstein famously said, "I have no special talent. I am only passionately curious." Einstein was able to look at the world differently because of his innate drive to understand the "why" behind things. I share that ethos, though mine is applied to social systems versus hard science.
I see Mark Twain as a social innovator, challenging cultural norms and institutions through his writing, and choosing the medium of humor, satire and fiction to have greater influence.
A few years ago, I caught a TED talk with this amazing young woman, Eesha Khare, who for her high school science fair invented a way to charge a dead cellphone in about 20 seconds. She is brilliant and passionate, clearly conveyed her ideas and made them into reality and, in a long list of white guys who are often the go-to examples of famous innovators (my previous citations as Exhibit A), she reminds us that anyone, given opportunity, access and a voice can make a difference. That truism is what guides my work.
What opportunities make Baltimore a good place for growing a business or organization?
I grew up in Baltimore – Hamilton at Northern Parkway and Harford Road. I'm the third generation of a family printing business. People can live, work and thrive here and be happy and successful. There are multigenerations of Baltimoreans who love this place, far more than those whose actions paint the negative image of a city in chaos. It's partly our proximity to centers of government and business, such as Annapolis, Washington and New York; it's partly the strong coalitions of business, advocacy groups, universities, government and citizens who seek and champion real change. But it's mostly the "I know that person" phenomenon of "Smalltimore" that allows people to make real change here. You can talk to someone about your idea, and they can connect you to someone else in a way that frankly gets lost in bigger cities.
In terms of startups and innovation, what's one (positive) thing that separates Baltimore from other innovation hotbeds?
Location! Washington down the road; New York a train ride away; major airport hubs nearby; world-class institutions like Johns Hopkins but really a host of great organizations that do good work every day. You're surrounded by folks who want to make a difference, you're close to connect to policymakers, funders and influencers who can enable making a difference, and the city (and state for that matter) is small enough that you can see the fruits of your effort.
It's after a long day of work and you don't feel like cooking. What is your go-to Baltimore restaurant?
Mt. Washington Tavern — I used to live across the bridge and it's still my go-to. Great sandwiches and better beer.