Johns Hopkins Technology Ventures' Corporate Partnerships team is the university's front door for corporate partners seeking academic collaboration. We leverage faculty and industry mutual interests to create value and address unmet needs in society, by effectively sourcing, cultivating, and managing strategic industry partnerships, while establishing Johns Hopkins University as a partner of choice for industry. 
Featured Partners
Learn more about the current projects we are collaborating on with our selected partners below by clicking on their logos.
INDUSTRIES & SECTORS WE WORK WITH
Diagnostics
Digital health and Precision medicine
Engineering
Materials science
Oncology
Opthalmology
FEATURED RESEARCHER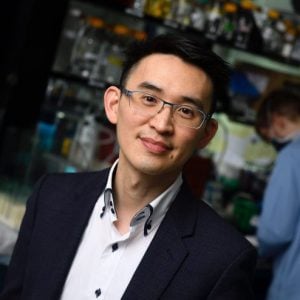 Anthony K. L. Leung, Ph.D.
Associate Professor, Biochemistry and Molecular Biology
Researchers investigating ways to develop a novel class of antiviral drugs to treat coronaviruses, including the SARS-CoV-2 virus that causes COVID-19, have developed a platform that can rapidly screen thousands of compounds to identify potential candidates. The team, led by researchers at the Johns Hopkins Bloomberg School of Public Health, used their new high-throughput platform to screen drug compounds that inhibit the macrodomain—a protein fold that plays a critical role in the coronavirus life cycle. Prior studies suggest that some coronaviruses as well as alphaviruses largely lose their ability to replicate in cells and cause disease when their macrodomain's enzymatic activity is disrupted. In this study, researchers targeted the macrodomain of SARS-CoV-2 called Mac1. FULL ARTICLE
corporate partnerships team
Learn about our team's expertise and find out who you should connect with to begin collaborating with JHTV.
Joining JHTV in 2021 from Global Health Consulting, Paul served as chief scientific advisor, after spending several years at United States Pharmacopeia, where he helped lead a $110 million medicine quality assurance program funded by the U.S. Agency for International Development. Paul also spent 14 years at Pfizer, first as a scientist in early/late formulation development and ultimately as a group lead/principal investigator, leading drug discovery teams and providing oversight to small molecule and biologic programs across a range of therapeutic areas.