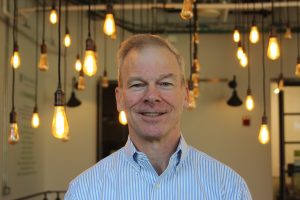 Brian Stansky leads FastForward, Johns Hopkins' coordinated suite of resources that moves technologies from startup to marketplace and currently supports more than 100 commercial startups. As part of FastForward, Brian also oversees FastForward U, which works with Hopkins student entrepreneurs, and the Social Innovation Lab, which works with social entrepreneurs at Hopkins and in the Baltimore region. Brian served as a FastForward Mentor-in-Residence prior to joining the JHTV staff.
Brian came to Johns Hopkins from Integral Capital Partners, where he was a managing director investing in late-stage venture and public equity securities of companies in the life sciences industries. Brian previously worked at ABACUS Investments LLC, a hedge fund specializing in the technology, media and telecommunications industries, as well as at T. Rowe Price in various research and portfolio management positions, including portfolio manager of the T. Rowe Price Media & Telecommunications and Health Sciences funds.
Brian graduated with a bachelor's degree in accounting from Boston College and a master's in finance and applied economics from the Sloan School of Management at MIT. He is a CFA charterholder.